+

To obey my body's most instant stimulation is the only rule I live by X,Nat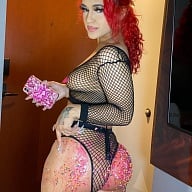 "Let yourself be silently drawn by what it is that truly sets your soul on fire just because life is only as beautiful as you decide to make it…" X,Nat
I see you're interested in me…
So let's get this show on the road… Shall we?…
My name is Natalia Eminent & I'm just your well-above girl next door that reigns over your fantasies. If I had to describe myself in a set of words I guess I'd have to say that I am bubbly, fun, entertaining, (not the least bit modest), and a lover of all things indulgent and coveted.
Allow me to take you on an adventure, free you of the confines of a rigidly scheduled life, and allow you to relish on that thing we all miss and chase in our adult lives: absolute carefree fun.
Our saga begins when you first lay eyes on me. I'm a vision to behold, better than you even imagined. I'm always dressed in whatever makes me feel sexy yet at home. Then again always manicured, primped, and polished. (I did mention my lack of modesty, didn't I?) The butterflies in your belly are fluttering about as we continue to get to know each other over a glass (ok let's get real, a bottle) of wine accompanied by an exquisite meal.
It is not long before you are thoroughly charmed by my quick-witted dry humor, bright brown-eyed gaze, and coy smile. That's how it all begins, but where it goes from there is entirely up to us.
The people I keep around in my life are truly amazing and I hope to add you to that list. With me you'll find an intriguing blend of a classic lady and with an unconventional flare. I love to be wooed by a gentleman that loves to impress, pamper, and court his dream date. I make no apologies about living a very charmed lifestyle that I have grown to expect & have been able to create for myself throughout my adolescent years.
Though I hold myself in the highest esteem, I make no room for arrogance and aim to make you feel at ease, relaxed, and make you laugh until you cry.
I like to hold myself accountable to the fact that every single day I'm changing, growing & learning something new. Every day is a new day that I'm breaking waves of change.
My whole life I've always dreamt of what living with no filter would look like, meaning doing what I pleased when I pleased & how I may be able to impact those around me for the better. I'm glad to say that times have changed & that's exactly what I'm doing now.
I could go on, but I prefer to leave the rest to mystery. The ball is in your court now and you can send it right back to me by filling out my contact form under "Reservations" on my website!
Also! Be sure to check out my extended time and fly me to you packages under my "Packages" section which is also listed on my website.
I hope to see you soon! But… Until we meet!
Take Care,
Xoxo
X,Nat
Hmmmm…
Want to get to know me a bit better as well as get in tune with my daily activites?
Then make sure to follow me on my social accounts!
Instagram ~@natalia.eminent
Twitter ~@nataliaeminent
The Look
Natalia Eminent is a 5'2", curvy, 21 year old latina woman with long red hair and brown eyes.
She is available for Male, Female, Couples, and Trans.
Interests
I like what I Like…
Now let me fill you in with the many things that I absolutely adore that this beautiful life has to offer us all! :)
Poetry
Golden hour
Art galleries
Live theater
Museums
Shopping (Make sure to check out my website & click "Spoil me" to see all of my materialistic desires)
Eating great food while sipping on something quite delicious!
Laughing
Dancing
Writing
Brunch
Red wine, Champagne
Long walks at the beach
Candy
Going to the gym to then take a refreaching shower right after
A freshly polished man/couple
Deep meaningful conversations
Flowers! (Preferably Roses)
Ugh i could go on & on but I'd rather much stop here!
Expectations
The ball is in your court now and you can send it right back to me by filling out my contact form which is located on my website under "Reservations"!
ADVISOR:Please keep in mind that when
filling out a "Reservation" form out on my website that you include All proper Screening information.
Failure to do so will result in a termination of form.
I am available for meet & greets, couples, duets, romantic dates, & international/nationwide adventures.
Please inquire my website for my rates & availability for ongoing arrangements.
After reviewing my rates & etiquette as well as expectations you can then send me an email to:
Inquire for ongoing arrangements with a brief explanation of yourself:
Bookingsnatalia@gmail.com
nataliaeminent@protonmail.com
Or you can also submit a form on my website under "Reservations" (This is the most preferable way to contact me for all future arrangements)
If you'd like an arrangement in relation to something longer/out of my home base (N.Y.C) between us then make sure to check out the "packages" section of my site where I have my all donations listed/fly me to you packages as well as extended times available!
Make sure to be open minded to the fact that I do require a deposit as well as a screening process towards all new potential clients. I will not see ANYONE that is not open towards going through my screening process nor willing to secure our date with the ensurement of a deposit prior to meeting with me.
Until we meet…
XOXO,
X,Nat
Contact Info
Contact
Information
Add Natalia Eminent to...