+

A Lady of many talents. Sweet and ravenous let me be your nightly dream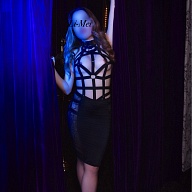 The Look
Li-Mei is a 5'3", slender, 22 year old asian woman with medium length blonde hair and black eyes.
She is available for Men, and Couples.
Tell me your name and I'll show you my puzzles.
Who am I?
A bookish college student?
A beautiful ballerina?
A tenderly confidante?
My eyes can tell you that I have a burning thirst for knowledge, radiating some innocence from only 22 years of life. Slanted and shaped like an almond you can see a distinctive Asian heritage. Perhaps Chinese from the sound of Li-Mei.
My petite figure and graceful stroll tell you that I take great care of my body. That I always put my best make up, and wear lavish designs. My toned derriere reveal years of Jazz and Ballet dancing from which i've learned discipline, but more importantly, the art of coquetry through poetic and expressive movements.
My exquisite smile reveal a life full of adventures, evolved into an energetic and yet sublime demeanor. I love becoming a center of attention, but prefer to discreetly grace through crowds like refined satin. A silk wrapping mysteries from a delicate Eastern ancestry and a formidable Western upbringing. To be unfolded into a stylish muse with an ambiguous accent.
Hear my lyric soprano and guess, is it Asian or Latin?
Interests
I love dancing, I practice Ballet and Jazz a couple of times a week. I certainly love theater shows like Ballet and Opera. My favorite Ballet is the Swam Lake and my favorite Opera is Lulu. I also take bikram yoga classes whenever my schedule allows me.
I'm a foodie at heart, and my favorite cuisine is Japanese and Latin. I can never say no to Omakase or Guacamole.
Other interests are: behavioral economics, philosophy, finance
Expectations
Please check my website for booking etiquette and more pictures