+

Have Your Cake and Eat It Too! Sweet Treat Erin Black In NYC 2/4-8!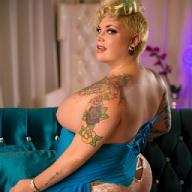 Vanilla Funfetti, Salted Caramel, or Devil's Food- What are you craving?
The Look
Miss Erin Black is a 5'10", full figured, all natural, 31 year old caucasian woman with short blonde hair and blue eyes.
She is available for Men, Women, Couples, and TV/TS.
When that sweet tooth hits you, there's little else that can satisfy that craving. You're sure of what you want, and you know it has to be decadent, soft, colorful, and fulfilling; something you can really sink your teeth into and truly enjoy. Cupcakes always do the trick for me! The fluffy, sweet frosting on top of soft, decadent cake. Can't you just taste it?
Whether its a fun and colorful Vanilla Funfetti Cupcake or dark and rich Devil's Food Cupcake, you'll be sure to find exactly what you desire! My particular cupcakes are sure to satiate even the most persistent of cravings.
Vanilla Funfetti Cupcake: Sometimes, the best indulgences are fun twists on a classic, and that's exactly what this is! I want to be your soft, sweet, easy breezy treat that just so happens to be a little bit colorful on the outside. We'll be able to get to know one another through romantically fueled conversations, sweet nothings whispered, and true connection. I love being the woman you choose to cuddle up with, and want nothing more than to cuddle up right next to you!
If you want to spend more time together, I can certainly wipe off the extra frosting and put on my cutest outfit for a night on the town. I love exchanging knowing glances over glasses of bourbon, playing footsie under the table, or better yet-sitting next to you instead of across. If we happen to be in Chicago, I love playing tour guide, and can make all the arrangements for us if you'd like! If we're in a different city, I'm always happy to research and make suggestions, should you want them.
Salted Caramel Cupcake: if you're in the mood for something a little more edgy, fueled by high energy and enthusiasm, this is definitely the indulgence you're looking for! If you happen to want a richer, more intense taste experience than the more traditional Vanilla Cupcake w/ Funfetti Frosting, Salted Caramel is sure to satisfy that immediate, intense need. I love spending time with enthusiastic, devil-may-care folks, and this salty, sweet, rich cupcake has more than enough creativity to keep us busy with one another. The flavor of this particular cupcake is definitely richer and more decadent. You might be left out of breath, slightly dazed, and craving more. Don't say I didn't warn you! ;)
The Salted Caramel Cupcake is perfect for those who are interested in testing the waters for new experiences as well! There's no BDSM involved in this sort of experience, so there's no need to feel pressured by that acronym. Salted Caramel is all about trying new things, exploring, and having one hell of a good time while we're at it!
Devil's Food Cupcake:
Perhaps you're ready for something rich, dark, and decadent. Maybe you've already had a taste of Devil's Food and can't wait to try my particular style that happens to be just a bit sweeter than your average BDSM/kink experience. If you're ready to explore some more intensely flavored offerings, then the Devil's Food Cupcake is certainly something you should try! Make sure you bring a healthy appetite and imagination along for the experience, and get ready to play with kink, fetish, and bdsm in a whole new way. I love fetishists, submissives, hedonists, kinksters , women, and couples! Let me expand your palette and take you to the edges of indulgence!
Interests
Baking
Art and art history
Electronic/Hip-Hop/Darkwave/Ambient music
Drinking and dining. I truly enjoy an all-encompassing culinary experience!
Gardening, and tending to my little windosill succulent boxes
Cycling; when I'm home I ride between 40-60 miles a week.
Yoga/meditation
Political Advocacy
Expectations
Sensual BDSM, kink, fantasy, and fetish scenes blended with girlfriend romance are some of my specialties. To discuss these scenes in detail, you'll need to be completely screened. I promise it's painless.
Upon meeting, I do love to be greeted warmly and will absolutely greet you like a long-time friend and lover! Be sure to excuse yourself to freshen up to wash your hands and use the mouthwash provided. A shower, complete with toiletries, is always available should you find the need.
Contact Info
Contact
Information
External Links
Add Miss Erin Black to...