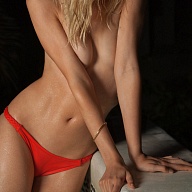 The Look
Jessa Jones is a 5'11", all natural, 29 year old caucasian woman with shoulder length blonde hair and brown eyes.
I've traveled widely and experienced a lot in my life. I get great pleasure from sampling all life has to offer and pushing boundaries. But I believe I still have a large element of innocence about me – some would say even naivety. Perhaps as a result, I'm not good at pretending or becoming a different person. So when you are with me, it will always be the real me you are seeing. If we click together, we will *really* click. And that is why I truly do enjoy what I do!
With an infectious personality and a knack for adapting to any environment, you will find me the perfect charismatic date. I thoroughly enjoy human interaction in every form.
Interests
In my free time I enjoy spending time with good friends eating out at a new restaurant, exploring the many worlds of New York as well as enjoying a quiet night at home working on an art project.
Expectations
To book a date please take a look at my website and my rates.
I strongly recommend you pre-book, I screen thoroughly and sometimes this takes time, last minute requests are often difficult to arrange.