+

Therapeutic Kink Massage offerings, BDSM, Bondassage® and Elysium™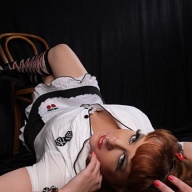 "Something Different" It's what EVERYONE WANTS- Sensory, Therapuetic and even KINKY bodywork custom created HERE with Miss Jenna Rotten!
You are in control. You are powerful. At home, in the office, on the field; at work, rest or at play you are the "King of the Castle"
BUT…you yearn for something else. A secret just for you. A fleeting chance for YOU to be selfish. To lose yourself in pleasure while someone else takes control, playing your body like a fine tuned instrument.
This is where I step in; Pleased to meet you, I am Jenna. My life's calling led me to become a highly trained bodywork artist, a kinkster, a teacher and a healer. I am here to nurture a secret part of you, one you rarely get to show elsewhere in your life. It is my privelege to introduce you my own personal version of therapeutic kinky bodywork I have honed over over the last decade. I specialize in custom sessions, My own therapeutic blends. In addition offerings including various specialty techniques such as Bondassage and Elysium massage. Face up Klixon style pelvic massage, percussion, bondage, sensory deprivation, kink and toy play are all specialties of Mine. Let's find out together what "something different" means to you! XXX
Interests
As My moniker "Rotten" suggests, I am a punk rock pin up girl at heart. An avid art collector of many mediums, I consider my well done tattoos ONE of My many assets as well as art collections. I have a unique personal style, a blend of bad girl beauty and well spoken intelligence. You will find Me emotionally available, always welcoming you into My arms with a hug before delving into the deeper regions of our connection. My favorite flowers are orchids, my pursuits lean to the earthy nature. A gift for Me would be an exotic location with indulgence of the senses, leisure sports and relaxation. Muesums, Botantical Gardens, and antique stores are all places you can find Me wondering in awe for hours. I do not indulge in drink or drugs(420 friendly). PLEASE PASS on the (much appreciated thought) gifts of alcohol.
I have been in the industry for 10 years, setting me apart in experience. My imagination can be described as "active". You can often find me daydreaming about sessions past AND future. BDSM bodywork is truly a career for me, not something I just decided to do "fly by night." I have mentored under many well-known women in the BDSM and bodywork community and am involved in the Bondassage collective. My passion leads me to ongoing education in sexuality, something I love to share with clients. Sexuality is human nature and knowledge is power; I invite you to learn with Me.
In addition to bodywork, I offer also indulge in many BDSM fetishes. Here is a partial list. Please contact Me with a respectful approach if you are curious about something not listed.
*role reversal/forced femme
*crossdressing
-paddles(leather/wood)
-heavy handed OTK
-percussion massages/spankings
*intelligent verbal humiliation
*foot/body worship (armpit is a favorite)
*spitting
*chastity
Expectations
I am available every day 9 am-9pm and outside those hours with advance booking. For a same day session, 2 hour advance notice is best.
My Rates as Follows;
Includes full listed playtime+generous before and after care.
Hour $200
90min-$300(first time clients)
120 min $400
PREBOOKING WITH DEPOSIT EARNS 25% DISCOUNT
Please contact Me directly about couples offerings
Contact Info
Contact
Information
+1 916-800-7985

no blocked calls
External Links