+

When was the last time someone took care of you? It's your turn, isn't it?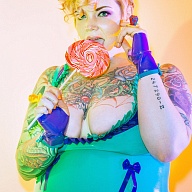 Need excitement? A break from the routine? Get in touch; let's find a cure for your common day!
The Look
Miss Erin Black is a 5'10", full figured, all natural, 27 year old caucasian woman with short blonde hair and blue eyes.
She is available for Men, Women, Couples, and TV/TS.
Chicago-based and NYC-ready!
I know you're tired of making all those decisions. Maybe you've had a long, hard week at work. Maybe things are tense at home. Perhaps you're in the mood to meet someone who's easy to talk to and ready to get down and have a great time.
Whether you need to relax and connect or have a lively, feisty experience; I want to be the one that satisfies your needs!
Let's go exploring! Have something specific in mind that you've never tried before? I want to know what flips your switch; what you spend time daydreaming about. I love devil-may-care folks, and there's nothing like trying something new for the first time with someone who loves to explore. My banter is witty; my hands are gentle yet strong; my mouth is soft, and I'm nothing if not a full-bodied experience.
I want to be your alt-Girl Friday, and show you exactly what you've been missing out on. Been meaning to check out local art galleries and haven't had a conversation companion? Come on! Let's talk art and use words like "juxtapose," and "dichotomy" in all the wrong ways. Is there a bar or restaurant you've been wanting to check out, but haven't found the right type of drinking buddy? Aw hell- come on! Let's do the things you keep putting off (and then keep things going).
Are you ready to meet someone who's easy to be around? I pride myself on being authentic, real, and meeting you where you are. I want you to feel comfortable with me, and you deserve time to enjoy the complete and total freedom that comes with letting go and being yourself.
So, what are you waiting for? Let yourself indulge, and let me be your new favorite indulgence!
Interests
About Your Cupcake, Erin Black
You may have seen me sitting in one of a few coffee shops, concentrated over my laptop with an almond milk latte to keep me company. More than likely, my earphones were snugly set in my ears, and I was bopping my head to the 90s/alternative hip-hop that I tend to prefer.
My daily uniform of all-black with boots to match often times reveals some of the tattoo work that I've been acquiring since my teenaged years. In private, I'm more than happy to share their stories and let you trace them with your fingertips; I'm a complete sucker for being touched and held. My favorite tattoo, you ask? Cherry pie that's tattooed on my left foot. Ask me about it if you're curious! My hair is always short, and normally a pastel blonde that you'll have to brush out of my eyes. Please, rub the back of my head! It feels great for both of us.
My photos are current, accurate and speak for themselves, but if you like descriptive words, "statuesque," " Rubenesque," "Amazonian," and "chubby" all work for me. I'm the opposite of diminutive, standing 5'10" in flat feet. My legs are long and lean, and I take my strength training, cycling, and yoga practice pretty seriously.
My intimacy interests have changed a lot over the years, just like my hair color. Years ago, you'd have seen me with black hair instead of blonde, and holding whips instead of cupcakes. Kink and BDSM have always been important to me, but I've come to realize that all forms of sensuality and intimacy are delicious and decadent! I truly love discovering what makes people tick, and want to share intimate moments with you in whatever forms they happen to take.
I'm an extroverted introvert, lover of puns and laughter, and an adventure enthusiast. I'm a high/low hedonist, and love to imbibe champagne alongside fried chicken. Reposado tequilas, scotches aged in sherry barrels, bourbons aged in port barrels, dark chocolate, La Colombe coffee, and West Coast oysters are just a few of my favorite indulgences. I spent over 15 years in the hospitality industry, and I've done it all from washing dishes to managing beverage programs and even winning national cocktail competitions. Having an introductory Sommelier certification helps make me one of the best hosts you'll ever encounter; I'll always be able to pair your drinks perfectly with your dinner.
I'm proud to hail from Cleveland, but Chicago is definitely home. I absolutely love my city, and should you want to adventure though it, I make a pretty great tour guide. Whether you're into history, food and drink, or art and architecture, I've got you covered.
I can't wait to meet you and play host to an experience that you won't soon forget!
Expectations
Sensual BDSM, kink, fantasy, and fetish scenes blended with girlfriend romance are some of my specialties. To discuss these scenes in detail, you'll need to be completely screened. I promise it's painless.
Upon meeting, I do love to be greeted warmly and will absolutely greet you like a long-time friend and lover! Be sure to excuse yourself to freshen up to wash your hands and use the mouthwash provided. A shower, complete with toiletries, is always available should you find the need.
Contact Info
Contact
Information
External Links
Add Miss Erin Black to...