+

Potent Luxurious Moments with a Passionate Minx of Fulfilling Energy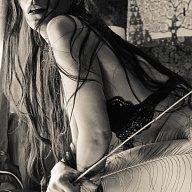 …" There's no telling what we'll do when we're free"…

Hello, Gentlemen.
I am a one-of-a-kind gal whose been called exotic in looks with insatiable magnetism and an easy-going manner. A natural woman of various delights. when I welcome you to my temple, I hold myself to providing a fervidly intense and genuine experience by urging an enchanting, organic dream-state that empowers deeper instincts and inclinations towards euphoria. My favorite occasion is when it feels like we're the only ones in the world… ~And the only ones we shall be, when together we're free.
I have a knack for inciting personal interests intuitively, an experienced ability to bring the plumpest joy to your day and I'm grounded in being present while secretly enjoying you, enjoying the essence of my spirited nature.
My offerings can happen as relaxing or energetic (please state your preference if you have one). I see the time we spend as a luxurious escape in time…Ready to engage and embrace… Recieve my gifts… I'll make it a dream…
Sincerely,
Pleasure-muse
Nico
The Look
SweetNico is a 5'7", slender, all natural, 30 year old caucasian woman with long black hair and green eyes.
She is available for Men only.
Interests
Honestly, I'm interested in a lot of personal growth, private explorations, and learning new things, always. Though my interests and passions evolve. Some that remain day-in- and -day-out are writing (more than reading, but reading is essential to a writer), art, the creative, music (like everyone, even those that don't realize they're touched and affected by it… -music that is). I enjoy philosophy, philosophies and creating my own. I thoroughly enjoy connecting with a person. Making life exciting is a favorite past-time. And of course being open and present, stopping and smelling the roses, and simply just being…
~Speaking of rose. I love flowers, who doesn't! Though I'm natural and effortless in honoring the man in you, sometimes you can make that definite occurrence sweeter by honoring the woman in me.
~Major interest: Life purpose and life fulfillment for all. Enlightenment, as well. Constant improvement and growth (so under-rated).
-I truly wish for world peace however, I don't believe we will use our human abilities to achieve this as swiftly as we actually can. I hope that my optimistic mystery is of beneficial impact to you.
Expectations
*I value discretion, common sense, and openness. You too.
*I recommend advance bookings if you can. Early day communications can enhance the chances of same day meetings. Exceptions made for those of familiarity. If you've recieved contact info from me in person, please use this.
*New to me? Necessary screening: verifiable employment information or a reference from 1-2 providers.
Availability: Contact me and let me know when you would like to meet. If you email, please include Date, hour duration and anything you find pertinent to the time you want to spend. We'll go from there. Advance bookings are recommended. Some same day appointments are welcomed if I can accommodate.
My offerings can be relaxing or energetic.
Classic Fbsm 60m 220
Deluxe Fbsm 60m 260
Fantastic 60m 300
Companion 90m 600
Value that I bring myself to you authentically with a natural knack for more than chat, and a potent air of romance and mystery.
Dinner or attending entertainment or transformative events 2-12h (must meet first.)
*My sessions are experienced in my private sexy studio in San Francisco. I can be available to travel to you, however, I do this sparingly and prefer that we first meet for a session at my personal sanctuary. However, I'm open to meeting at an appropriate hotel, or home for time with one whom I've already had the pleasure to host, feel and connect.
*When you come to my temple, you can expect a candle-lit shower and more than your fair share of enjoyment. The only thing I want is you. I will likely exceed your expectations and make dreams come true.
*If one would like to spend time together at night, please make sure to get in touch with me earlier in the day or week. Thank You, -as sometimes it makes all of the difference in catching this minxy muse -as timing usually does affect everything…
*Emails are preferred. I will return all voice messages.