+

Potent Moments with a Passionate Minx …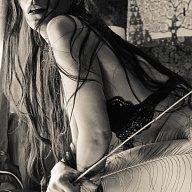 …" There's no telling what we'll do when we're free"…

Greetings and Welcome back Pleasure seekers, Pleasure givers and Voluptuaries alike.
~As usual, I'm hungry for energetic affection and attention.Providing an in-person, connected union to engage the senses.
Let's ground ourselves in the genuine rhythm of instincts and provoke our inner-explorer through one another's melody.
My heart and nature is to be inherently inclined to bring to light and revel in the wishes of another.Illuminating a path to intensely ecstatic experience and achieving a dream-like state. Compelled by who and how I spend my time, I'm ready to accommodate you with a relaxing or energetic session. Sometimes one needs to be wound up, other times one needs to wind down… Sometimes the waves from blending the two is just what the doctor ordered…So long as it's fulfilling. Our intertwined time should be pleasant and anything pleasurable. Serendipitous pleasure-dipping is a felicitous must!
My preference to meet with older men is true… Please don't hesitate to reach out. Some respectful, younger submissive gentlemen are welcomed.
I long to partake in anything I've offered. I've been a skillful, light-volume while providing in a way that makes you happy. Do be prepared with standard screening information when you're ready to set a date. Time is lovely and valuable. It should be appreciated and respected. I have a natural knack for making anybody comfortable and a spectacular knack for guiding aching appetites through organically opening and unfolding… and filling.
About the Location: Easy to find. Plenty of parking spaces near. Discreet and completely private. It's best when it feels like we're the only ones in the world. Everything that you need is there and clean. A shower is available complete with scented and unscented soaps to choose from. I generally try to make the entire experience well-lit with lighting and candle-light.
-Be prepared for a one-time, standard screening.
-Email-only, if we've yet to meet.
-I am open to doing what feels natural in a given private moment with another.
-Privacy and discretion is a must.
-Massage is offered with companionship…as you fancy.
-An earthy and open gal, please don't mistake me. I'm disease and drug-free. You too.
-As for the additional health precautions we've had to take in recent months, I'd like to assure you that I will be taking my temperature regularly and certainly before meeting. I will take yours when you arrive. I thoroughly clean and sanitize everything and all common areas after each use. I will always be freshly showered just for you. Please do stay home if you feel ill, have a temperature or are otherwise at risk for being unhealthy and/or contagious with anything. Please take care of your health and build your immune systems. I'm delighted to safely be apart of your health regimen.
I'm ready to create only that which makes us feel good.
The Look
Pleasuremuse is a 5'7", slender, 33 year old caucasian woman with long brunette hair and green eyes.
She is available for Male only.
Interests
My interests start with wanting to love and be loved… a lot. I thoroughly and consciously enjoy my freedom. My interests always includes personalized time with myself or others. Though I prize being open, I enjoy a secret life… It just excites me. I like to try new things and meet new people. I love being one-on-one and present with another.
I care to further explore bdsm separately and together with my massage session and that of my offered companionship (massage also offered with companionship). I care to further my tantric explorations and all other callings in life. Fun is always sacred, and so are people… & time. Let's make the best of it, mostly because we can.
Expectations
*I value discretion. You too.
*I recommend advance bookings if you can. Early day communications can enhance the chances of same-day meetings. Exceptions made for those of familiarity. If you've received contact info from me in person, please use this.
*New to me? Necessary screening: verifiable employment information or a reference from 1-2 providers.
Availability: Contact me and let me know when you would like to meet. If you email, please include your desired date/hour/duration and session style. We'll go from there. Advance bookings are recommended. Some same-day appointments are welcomed if I can accommodate.
My offerings can be relaxing or energetic(request if you wish)
Classic massage' 60m 220
Deluxe massage' 60m 260
Bdsm Exploration massage' 60m 300
Companion 60m 500
Bdsm Exploration Companion 600
Please value that I bring myself to you authentically with a natural knack for more than chat, and a potent air of romance and mystery.
*My sessions are experienced in a private, sexy studio in San Francisco. I can be available to travel to you, however, I do this sparingly and prefer that we first meet for a session at my personal sanctuary. However, I'm open to meeting at an appropriate hotel, or home for time with one whom I've already had the pleasure to host, feel and connected.
*When you come to my temple (body and space), you can expect all that you would need.
Thank You for taking the time to read a note from this minxy muse… Until I get my hands on you, stay sexy.