+

The perfect accompaniment to a lovely evening is a beautiful woman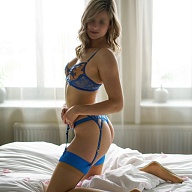 I'm so happy you have stumbled upon me, and I welcome you to my secret world.
A place where we can relax, explore, and create incredible moments and memories together.
Allow me to introduce myself; my name is Hanna and I was born and raised in Norway and have lived and traveled throughout the world. Some might call me an old soul with a youthful nature. I have a penchant for the taboo and the finer things in life.
On your first glance you will be met by a model like blonde with legs that seemingly go on for ever. Soon you will be entranced by my caring nature that will put you at ease, as I welcome you in to a space of exploration with me.
When I am not busy studying for university, I enjoy pursuing my myriad interests and hobbies, ranging from staying fit and active by rock climbing, hiking, and sailing to cultural pursuits like theatre, art, and music. As a multi-faceted, well-informed, and deeply thoughtful woman, I also savour philosophical conversations about life and society that one can only experience with a confidante. If such activities and potential interplay sound appealing, it will be all the more enticing to you when you behold my traditional Nordic features – especially my statuesque, toned, and beautiful body and legs that seemingly go on forever.
So, let's you and I embark on that most unforgettable adventure, have fun… And go wherever our impulses lead us!
I have limited availability so please book in advance. I like my dates filled with passionate connection, fun and laughter. I prefer longer dates as it gives us a chance to fully indulges in each other's pleasure points, but rest assure that I also love shorter escapes to accommodate an occupied businessman.
The Look
Hanna Rose is a slender 29 year old woman with medium length blonde hair and blue eyes.
She is available for Male, Female, Couples, and Trans.
Interests
Climbing and the outdoors are my passions in life, but rest assure I also have more relaxing interests like going to the theatre or opera, the exploration of a delicious restaurant, philosophical conversation and tantra. To name a few :)
Expectations
I expect you to be courteous and respectful in all our interactions – before, during, and after our time together. I am a caring individual with personal limits, and boundaries. I expect that you will always respect them. If I feel that there are any transgressions towards my boundaries, I will end the date immediately.
I ask that you place the donation in an envelope in a visible spot within the first few minutes of our meeting. To avoid any awkwardness, please don't make me ask for it. If we are meeting in a public place, please hand the donation to me in the form of a gift bag.
I ask that you shower once you arrive at our agreed upon indoor location. I will be fresh and ready for you.