+

Rei | 令 : Rule, Order, Command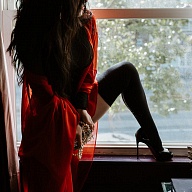 Lovingly cruel & petite Japanese Goddess
Potentiality knocks on the door of your heart. Haruki Murakami
A beautiful, palpable, electricity charges the air, thick and heavy.
Punctuated with sharp notes that send shivers down your spine, overpowers your breathing, sends your pulse racing.
Undulating pleasure that come from an acute awareness of being in this moment. Together, with me.
This is the space I hold you in. This is where I set you free.
Here is where I draw out all the indescribable, indulgent fantasies buried in the recesses of your mind. That you have been forced to bury, not allowed to touch. My fingers digging deep down, pulling at the roots of your hedonism.
Shame, disgust, humiliation…I want to gather them; gild you with that which you seek to bury and hide. Adorn you with what you've been told to bury and hide. Marked by my touch, you will see yourself through my eyes: your submission, a fascinating gift which I treasure and hold dear. Feel yourself liberated, enlivened, and blissful to your core.
.
My muse, give me your hand.
.
I deeply enjoy BDSM and have been exploring kink for the past 16 years. Sadism is, personally, the sheer enjoyment I get from watching you turn red with shame, those expressions you make, and your ever-growing willingness to do more and take more for Me. I also immensely enjoy:
Mummification // extreme bondage
Showers
Feminization & exploration of the Divine Feminine within you
High Protocol training
Humiliation & Degradation to extreme levels
Electroplay
Worship
and so much more…
I prefer to cultivate long-term dynamics wherein deep trust can grow. Exploring not just the kinks themselves, but where they are rooted. What drives them. What feeds them.
I seek submissives to enjoy life together with. Let's enjoy dinner, the arts, or any experience, while being our true selves. Take off your mask and live fully, with me.
The Look
Domina Rei is a 5' 32 year old asian woman with long black hair and brown eyes.
She is available for Male, Female, Couples, and Trans.
Interests
Dress: 0-2
Shoe: 5
Bra: 32D
Interests: Cooking (former chef in Michelin kitchens), museums, mushroom foraging, jazz clubs, reading (Murakami, Vonnegut, and Hesse are favorites)
I particularly enjoy being gifted:
- Lingerie, corsets, and bodycages which can be found on my Giftful (giftful.com/dominarei)
- Dry bouquets from Diosa Blooms, SF
- Fresh bouquets from Emilia Flowers, Berkeley (tell her the Dominatrix sent you!)
- Vintage furs & Vivienne Westwood
- When you pay for my gym membership and trainer
- Take me to dinner, watch me eat
.
To book:
Provide min 2 references with their website, email, or social media along with your session date or relevant information so they may verify you. More referrals = faster screening.
OR
Send your name, phone number, email, and a clear photo of your photo ID. You may obscure information such as address, etc.
Include your LinkedIn or work website where you are featured.
Expectations
The above screening is required. Once you are verified you will receive my number.
Rates:
1 hour not available for new clients
2 hours $1000
3 hours $1400
Dinner & Domination (4 hours, must include dinner) $2000
Overnight (up to 8 hours) $3500
*Incall at my private SF Dungeon location or outcall at a 4*+ star hotel
Fly-Me-To-You available as well; all you have to do is ask.
** Los Angeles May 18th 22nd (DomConLA)**
**Zurich May 24th 28th**