+

A Breath of Fresh Air ~ Pure Tantric Transmission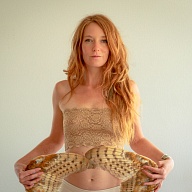 Dhyana is the 7th limb of yoga, pronounced "Dee-ahh-na." It means "contemplative meditation," or "absorption." A Dakini is a Tantric Priestess.
I'm interested in meeting those who are ready to answer the call of their wild hearts… for those ready to take the leap and discover what it means to truly Awaken.
I'm a tantric shamanic healer, and I love what I do. Every day I show up for this work, I am reminded of the power of sacred ritual to heal and transform, especially when combined with our ecstatic energy. I invite you to explore the depths of your body temple with me, so that we may encounter the pure Soul Spark at the centre of your being.
I do this because I need it, the world needs it, and I have a prayer for the balancing of the feminine and masculine on this planet. This is one of the ways I contribute to that vision.
I have been initiated spiritually in many lineages, and weave all of these together to create a session where you get to surrender to a pure current of Divine Feminine energy. Having a crystal-clear container is important to me, and I've worked hard to get to a place where I can hold a solid, safe space for people to let go into- so that the bliss of this experience permeates on multiple levels.
Our time together will leave you restored, rebalanced, and revitalized, stripped of layers of tension and stress. If you're lucky, you'll learn a thing or two. ;-)
The Look
Dhyana Dakini is a 5'6", slender, 37 year old caucasian woman with long red hair and hazel eyes.
She is available for Male, Female, Couples, and Trans.
Interests
Diving deeper and deeper into the presence within, becoming a devotee of my Soul and all its contained wisdom, living ecstatically
Singing, especially medicine songs
Listening.
Ecstatic dance, yoga, somatic expression, feminine mysteries, loving and making love, non-monogamy, sisterhood, fancy herbal mocktails, cooking super pranically-charged foods, psychadelics and plant medicines, medicine ceremonies, getting humbled and continually learning, Burning Man, energy medicine and intuitive development, Jungian psychology and Internal Family Systems theory, NLP, channeling and channels (like Abraham-Hicks for example, currently into Asil Toksal), talking to trees, taking long hikes, taking long walk-about road trips, international travel, indigenous wisdom, healing ancestral trauma, cultivating better relations with my friends and family, consciousness development, Ascension, holistic health, hot springs, nudity, creating community and networking like crazy, cultural repairwork, cats, paying attention to insects, and birds, and the Devas (elemental spirits,) shamanism, gnosis.
Oh yeah and Tantra.
Expectations
Generally available 9-9 M-F. The occasional weekend day is open, for the right person.
Best way to contact me is via email. If it's your first time contacting me and I don't recognize your number, you might not get a response. I will definitely respond to emails that provide a thorough introduction (most important), links to professional websites or linkedin profiles, and/or provider references with links to websites or ads. That just gets it all out of the way.
My in-call studio in San Rafael stays a cool 75 degrees year-round (a miracle), is equipped with shower and air purifier running 24/7. Depending on your social distancing protocols, I may or may not wear a mask. You, of course, are welcome to wear one.