+

Earth Magick Tantric Priestess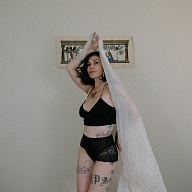 I am an ordained Priestess, massage therapist, & Tantric artist. I offer Tantric Bodywork sessions to bring you deeper into relationship with your sensuality & aliveness.
Allow me to be the High Priestess of your subconscious desires…
I use my rattle to stir your stagnant waters…so that you may come back to wholeness. With a sight for the unseen & the in between ; I guide you to the hidden treasures again and again. I am the siren of your dream world… awakening you from Within.
I specialize in working with clients who are curious about how their life force energy runs in their bodies; those who are looking for a deeper connection to their Soul/ essence as well as those who are looking for more play & imagination in their world. The Tantric Bodywork sessions I offer are ceremonies which encourage you to unwind , de tox & replenish your vital energies. You are invited into a space of deep nourishment, relaxation & sensual exploration.
Re turn to your body & replenish your senses with my intuitive guidance & experienced touch. These sessions truly are initiations. Please know that scheduling a session requires you to provide your basic info ( full name & profession )) as well as a link to your website/ profession. Thank you in advance for creating time in your life to receive healing bodywork / energetic tune ups.
$300 /hr Tantric Bodywork ( session begins w a guided meditation to prepare the body for relaxing on the massage table)
$450 / 90 mins
$550 / 2 hours
Dragon Initiation Session 90 mins $400
focus: breath, cultivating & balancing inner fire & water (desire & emotions) The Dragon Ally can help us regain our strength & gives us the courage to journey into the dark places and watery depths and brings us gifts of renewed clarity, vision & vitality.
I work specifically with the dan tien (area of the body below the naval and above the pubic bone )in this session. This area of the body can store excess energy to be used and circulated throughout the body for different purposes. Ongoing Dragon sessions are encouraged for those who want to experience a deep dive of Tantra & learn the energy channels in the body.
45 mins floor shiatsu nuru Tantra $200
90 mins shiatsu nuru Tantra $400
Couples Tantra Session $400/hr
I also offer medicine/ shamanic journeys in the Redwoods, cacao kava ceremonies & Tarot readings. You may visit my website for more info & photos as well as a dance video created by my troupe. Www.ciela-alchemy.com Also you may visit www.junipermoon.findrow.com
& www.junipermoon.buttrcup.com for more photos & video /subscribe
please email me
cielabliss@gmail.com to schedule a session
The Look
Ciela is a 5'9", curvy, 36 year old caucasian woman with shoulder length brunette hair and hazel eyes.
She is available for Male, Female, and Couples.
Interests
Art & creative expression
stars, the Tarot, symbology , ritual, chocolate, kava, roses, peonies, candles, Spanish Red Wine, Silver Tequila, lingerie, lace, leather,
Ancient Egypt & cultures which focus on spiritual energy, nature, connection & evolution
the forest,
bathing in salt water & gemstones
herbal teas and body oils
reading, writing, dancing & yoga
breathing deeply,
exploring the subconscious & dream world
psychedelics
Expectations
For booking a session I require you to Email me
Please introduce yourself and share your Linked in link / professional website / let me know your profession is. Please let me know if you are new to Tantra or if you have been exploring it for some time, etc.
Please note that it is best to set up a session hours ahead of time; preferably 24 hours if possible. I will respond in a timely fashion.
As a new client a $50 deposit will secure your appointment time. If you need to cancel or reschedule a session I require 24 hours advance notice. Thank you kindly.