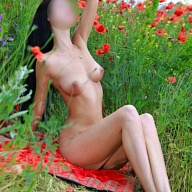 I am inviting you to my Mystery, where I touch you with genuine care, understanding, and acceptance…
The Look
Dancing Queen is a 5'6", slender, all natural, 24 year old caucasian woman with long brunette hair and brown eyes.
Hi, I am Deana, a professional dancer and adventurous muse who loves to share sensual joy and adventures with like-minded Gentlemen and Ladies who know how to enjoy life and let nothing stop them… Living to the full, fun, excitement, frolicking in the sun or splashing in clear water, reading and sensual dancing are some of my most favorite pastimes. I enjoy leading a healthy lifestyle and always strive to continuously improve myself on all levels! Harmonious freedom is my ultimate motto and fairness is my core principle…
My photos speak for themselves, if we hit it off you are to encounter exactly who you see here. I have a slender, very toned, fit and healthy body, soft skin, long, beautiful legs and a fresh beautiful face. Most of this you can see in the photos, the rest you will be pleased to see in person! And, YES, you will be able to see that it's all for real. ;)
I delight myself in experiencing the World of the Sensual and I am inviting you to join me! Apart from my many other interests and real life career I possess the Secret of the Magic Touch which is not only capable of relieving you of the stress of everyday life but can also tap into your subtle energies, renewing you on the cellular level and literally making your life longer and more fulfilling. The World of the Sensual Divine is nothing to trifle with, it is a path of spiritual growth and physical evolution.
I have a down to Earth, friendly and warm personality. I am a good and understanding listener. I love delicious food, luxury travel and good company. If you feel what I feel you are welcome to contact me so we can set a date for shared fun!
Deana
The best method to contact me is through my website.
Please note:
I guarantee that I am totally real and as presented or no deal.
The same stands true for you as well.