+

Make marvelous memories with a tantalizing transgirl.
Gender
Transgender (TV/TS)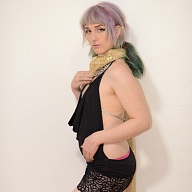 Everything is constantly happening perfectly around us, all we have to do is tap in and ride that wave.
The Look
Xaevynne is a 5'6", slender, all natural, 25 year old caucasian TV/TS with medium length hair and hazel eyes.
She is available for Men, Women, and Couples.
Hello,
I am xaevynne. I am as sensual as I am adventurous, as endearing as I am unique. Within the Seattle gloom and rain do I hold a spark, a flame that cannot be washed out.
Through my actions and thoughts do I seek to spread this flame, this passion. How I wish to erupt our world with the flame of bliss. Bliss of truth and pleasure. The bliss taken from us by the cold and empty.
I seek to repair damage done upon us. Through a trained ear, contemplation, and compassion will I pass around that unmistakable slice of paradise.
Yes this service rides the waves of superficiality. but it also yeilds opportunity to spread understanding. To allow the small cry within us be passed along and to be soothed. You are not alone.
I put myself out here for you. For those who want connection, for those curious, for those who have desires unobliged in the crossfire of our modern day culture. I am here to hear you. To listen and to soothe.
You see magic finds its way into the strangest of places. It may not be something easy to understand. But it is here, I am here, and I wish to show you. May you look into my eyes and see that spark. May you be stimulated by an array of words that humm a rhythm of symbiosis. May you understand my being resonates with truth in a world of lies. May you find these things to be evident in our time together if you choose to oblige.
I am Xaevynne, I wouldn't recommend you miss out on an unforgetteble night.
I would also like to make a more accessable version of what I just said for those who may not appreciate poetic value.
Let me use my energy to give you a wonderful time full of laughter, brilliant thoughts, intruiging conversation, and other fanciful, delectable experiences and expressions. I am one of Seattle's cutest and most naturally wonderful transwomen. I would love to share all of this with you.
I can sing, dance, play music, massage, play, hold conversation incredibly well, display exquisite etiquette, play any desired part, be socialble, be sensually aware, be incredibly presentable, and follow along in suit to any event.
I am a rare bird in a flock of pigeons if you know what I mean.
Interests
I am interested in all things beauty and art. I am musician and an appreciator of an array of music. I absolutely love to get dressed up all fancy and spend a night dancing or visiting an art gallery and contemplating the abstract nature of creation. I love to find little hole in the wall restaurants and have unique meals in foreign atmospheres. I am not apposed to walking and gazing and having light-hearted banter. I am certainly an open person who can adapt to many different walks of life.
Expectations
I expect anyone who spends time with me to be respectful. If you have respect for me I will have respect for you and treat you to a wonderful time. Be an adult.
I will not have any tolerance for any surprises that do not align with core values. No bringing in people that I wasn't previously aware of.
My hours are very open but when it comes to the time in which I have to leave, that is law. I will not have someone gush at me to stay. Epecially upon requests that I do not agree with.
Please refrain from using offensive, or derrogetory terms. If I feel like I am being verbally attacked the time will end plain and simple.
IF you choose to contact me please provide a well thought out introduction. State who you are, what you do, what you seek from the service, what you hope to get out of the service, and when you would like to have the service.