+

Time warping, breath taking, ravishing Transwoman of profound sensuality.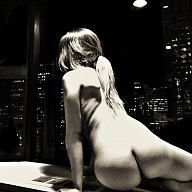 "you'll find me at the sleepy end of the universe"

"You should have seen it, everything was stating its own relevance"

"The universe is watching - better put on a good show"

Stop a second, take a deep breath, notice your tensions.
Imagine them melting off slowly with ease. In the places they were envisage a warm, shimmering wave of relief and weightlessness.
All of the constant bits of scattering and chattering thoughts that poke at you through out the day simply quiet and humm softly, harmonizing with each long breath that fills up every starved alveoli that wishes to allow sweet oxygen to your blood stream.
You can feel your tissue and organs receive their maximum level of oxygen bringing you to a state of unparalleled relaxation.
A place where a seconds tick slowly reverberates and echoes meaninglessly. Where all input becomes a soft and fuzzy blanket that offers comfort and security.
Where all ends and beginnings slowly dance innocently to a eternal tune of harmony.
In this scenario you will find me on both ends. For I shall be your guide and your destination.
I will both push you into the sea and be the warm, sandy beaches for you to wash up upon.
I will be the relief of letting go and the prize of holding on.
Here I am as the key
that unlocks your masterpeice.
∆
Rozzi Sparks:
She who can be the single spark to light a robust fire that warms you through the cold tundra of day to day doldrums.
She who is the catalyst to the internal combustion of the engine that fuels the sleek and luxurious chassis.
She who illuminates the area with a beautiful and hypnotizing allure that one cannot peel their eyes from.
The Look
Rozzi Sparks is a 5'5", slender, 27 year old caucasian with long hair and brown eyes.
They are available for Male, Female, Couples, and Trans.
Interests
hmmm,
I like candles and essentail oils.
I like firm pillows that I can put under my back.
I love adventure and finding myself in many different places and situations.
I love good conversation and the rhythm of when ideas flow freely.
I like an outfit that can inspire new trains of thoughts and sub characters within the tapestry of expression.
I love it when I notice life lining up in an opportune way when it could have closed all the doors.
I love it when I see that people are enjoying themselves in the moment.
I love the feeling when I know the next few hours or days are going to be good for reasons that will not alter.
I love bullet points
favorite gifts: dresses, trinkets, purses, whiskey, wine, posters, tapestries, socks, necklaces, shiny things, gold, cars, jets, cities, yachts, diamonds, highways, houses, cool boxes, rings, candy, skittles, coffee, gift cards, shirts, food… probably other things.
I love my city and I love being able to stay in it despite the gentrification and rising costs.
Expectations
RESPECT GETS RESPECT
Everyone's time is important. Everyone's health is important.
If you come into contact with me, any of my instructions are for everyone's safety and ease.
Please do not waste my time. I have little patience for indecisive or elusive people. I can understand how indecisiveness can go hand in hand with these endeavors as it is not a decision to take lightly. However, I will not spend time trying to convince you after you have observed all the information I give.
You must prove to me that you are legitimate. Whether it be sources, references, a phone call, or personal information, I expect a degree of transparency.
I can generally be available at any time. Notice is important so I can make sure I can ensure an accomodating situation. I also give notice to you anytime I have things set up.
(also on my website) :
Any foulplay is extremely discouraged and can have drastic consequences.
No one has time for poor repercussions. A lot of trust is put into any session and there must be equity from start to finish
There are plenty of better ways to express less than admirable traits. This is not one of them. If you can't handle that, maybe it would be a good idea pick up a paint brush or listen to some relaxing music before hand.
What happens stays where it happens. I am exposed to many people outside of this experience - if you happen to be one of them please respect space.