+

Tattooed/Alt-PinUp, Seattle Dominatrix, Supreme Satanatrix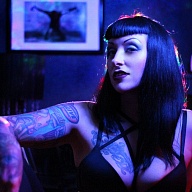 "Those who believe idle hands are the Devil's playthings have never felt the wickedness of my grasp."
Experienced purveyor of the FemDom arts who welcomes the longtime enthusiast and curious stranger alike.
Welcome to the Church of Satanatrix.
Lady Vi's private dungeon and place of worship located minutes from Seattle-Tacoma International Airport. Submerge yourself in a luxury BDSM experience; an unparalleled materialization of the mind's deepest, darkest cravings.
Take a tour: Dungeon Furnishings and Equipment
I have been told I am an addiction; a disease for which there is no cure. My beauty is intoxicating; taking a sip is not recommended for the faint of heart.
Are you familiar with Mary Howitt's poem, The Spider and the Fly? It's a cautionary tale published in 1828, told to warn girls and boys not to fall prey to the charms of those with wicked intent.
I promise you, my intentions are anything but pure.
I specialize in intense, multi-sensation scenes. My offerings are expansive and are befitting of the heaviest masochists or sensation seekers who do not favor pain.
I enjoy taunting mental anguish, and whimsical lighthearted fun. I am wicked by nature, cruel to my core, but I am not a stone-faced Dominatrix nor do I subscribe to the characterization of dominant personas. I am known for my sinister smile, infectious laughter and sharp wit.
Mae West is my spirit animal. I have been likened to a cross between Betty Page, Morticia Addams, the Evil Queen, and the muse behind Puscifer's track Rev 22 20 (Dry Martini Mix).
Tribute
1 hour - $290:
$200/each additional hour.
90 Minutes - $400:
For those longing for a deeper connection but who are unable to indulge a multi-hour scene.
2 hours - $500
3 hours - $700
4 hours - $900
Extended Sessions:
Contact to inquire about special rates for extended sessions including full day, overnight, weekend, and long-term arrangements.
Happy Hour or Dinner, 1.5 Hours - $275:
For those curious men or women interested in deeper discussion before beginning their exploration into the world of BDSM.
The Look
Lady Vi is a 5'7", slender, 39 year old caucasian woman with long black hair and brown eyes.
She is available for Male, Female, Couples, and Trans.
Interests
I've recently discovered a passion for old nursery rhymes and poetry. I have an extensive collection of books on the occult which I have been collecting since adolescence. I am drawn to the morbid and obscure. I'm well known for my love of pugs and am a collector of oddities, creepy art, and dead things.
I am accustomed to the finer things, spoiled by nurture; dare I say I'm a product of my environment?
I love music, food, international and domestic travel, exploring other people's passions and trying on new experiences.
When I'm not in the dungeon you can find me curled up with a new Netflix series, spending time with one of my personal slaves, enjoying a glass of my favorite red wine, planning my next vacation, sweating at the gym, reading Reddit, or plotting my next hedonistic pursuit.
Expectations
All booking requests must be made through my website: Session Request Form
Session requests made over the phone, text, or by email will be directed to the link above. Screening is required prior to discussing booking details. This enables me to ensure we are going to be a good client/ProDomme fit, and it also allows me to direct my time and attention towards real connections.
ProDommes who have elaborate screening, contact and booking protocols in place do so out of necessity. I promise, if you follow my rules you won't be disappointed. I'm narrowing my audience to those who've proven worthy of my time.