+

Bespoke Experiences for Red Letter Admirers…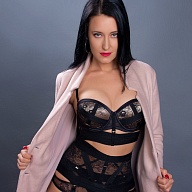 Cadillacs and butterflies, nothing and everything…
I'm best known as a star of big budget adult feature films and have probably played your favorite mainstream actress in adult parody. In addition to acting I directed for the biggest companies in the industry for years and am also a published photographer in mainstream magazines, books and adult print. As a genuinely assertive female I'm always exploring new kinks, and have most recently dedicated my time to creating videos focused on female domination.
The Look
Kimberly Kane is a 5'8", curvy, 35 year old woman with shoulder length brunette hair and green eyes.
She is available for Male only.
Interests
You might think you know me from my films, but I'd also like you to get to know the real me on a deeper, more meaningful level. I'd also like to get to know you, and hope we can become friends.
I lived in Los Angeles for several years, but grew tired of the hectic lifestyle. Since I prefer to live in nature I moved to the beautiful Pacific Northwest to enjoy life at a slower pace. I still am active in filming there, but I only work for myself now, focusing mainly on female domination productions, which interests me more than the average adult film scene.
When I'm not shooting I love being outside in the fresh mountain air! In PNW we know all sunny days are a gift, so on those rare perfect days I like strolling through my local park or taking my dog on a hiking adventure. I also love fine dining and PNW is world famous for its fresh seafood. Nearby Hood Canal is one of my special places; I like to day trip there to take in the breathtaking views and stellar seafood restaurants.
My ideal day would be spent in a cabin looking up at the Cascade mountain range, or down on a misty coastline, a glass of crisp white wine in hand – I love a good sauvignon blanc on a warm summer adventure – with fresh local eats I selected that morning from an open air farmer's market. Nothing is better than drinking wine and cooking for someone special, while listening to jazz and taking in the magnificent views.
I often reminisce about my travels abroad, and I'm hoping to add more stamps to my passport very soon. One of the best was going to Germany for a film festival featuring a movie I directed. It was a surreal experience to see my work on the big screen, shared with a captivated audience and followed by inquisitive Q&A.
Most recently I spent a few weeks in Barcelona, Spain followed by a quick trip to Istanbul, Turkey. I enjoyed Spain, but Turkey has been by far the most beautiful and exotic place I've visited. The food and architecture really took my breath away.
Speaking of which, I'm a big mid-century architecture and modern design buff. I even studied the subject in school to further my hunger for all things elegantly designed. Architecture brings me so much joy. When an architect respects nature tranquilly follows. I guess that can be said for so many aspects of life. Certainly my life. I'm waiting to hear from you.
Expectations
Safety, Screening, References &Discretion are my top priorities.
If you are unwilling or unable to be screened thoroughly to my specific standards please do not contact me.
Please keep in mind I only visit luxury hotels in the affluent downtown Seattle area.
These are my Seattle based considerations. When I travel my considerations increase.
*20% non-refundable deposit for all new friends
1 hour 1200
2 hours 2,200
3 hours 3,200
4 hours 4,200