+

Your Kinky Trans (FtM) Switch Wants to Please and Delight You

Gender

Transgender (TV/TS)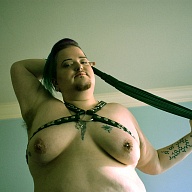 Perhaps all the dragons of our lives are princesses who are only waiting to see us once beautiful and brave. Perhaps everything terrible is in its deepest being, something helpless that wants our love
Adaptable, versatile, and charming, I'll put you at ease and engage your senses in any way you would like. Giver or receiver, vanilla or kinky, sweet or wicked, no matter the flavor of your desires I can meet you there.
My body is a unique gender blended experience. I've been on testosterone for three years but have not had any surgeries, so my voluptuous and curvy body has masculinized features, including face and body hair, but I still have a large chest and my t-enhanced original parts.
With a wide breadth and depth of interests and knowledge, I'm interested in connection over activity and am invested in your experience above all else. Nothing brings me more satisfaction than bringing pleasure to others and experiencing pleasure myself, from the sweetest of connections to the raunchiest. Kink & fetish available. Please visit my website for a greater understanding of me and what I offer.
Incalls only. Located in the Columbia City/Mount Baker area of Seattle, my private South Seattle sanctuary is clean, warm, and beautifully decorated. I have a full bath for you to freshen up before or after, a massage table, a bondage table/cage, and a lush king-size bed, plus a very well stocked toybox reflective of my years as a sextoy reviewer and lifestyle kinkster. Parking is free and easy.
The Look
Fenix Wilde is a 5'10", full figured, all natural, 31 year old caucasian TV/TS with short hair and brown eyes.
They are available for Men, Women, Couples, and TV/TS.
Interests
I have two Bachelor of Science degrees and a Master's degree, each with an emphasis of study in sexuality. Learning is one of my favorite things, and I spend a lot of my time reading and investigating the realms of sexuality, spirituality, psychology, neurobiology, embodiment, trauma, anatomy, and more. I tend to geek out madly on the neurobiology of love, relationships, and trauma.
I grew up in the forested wilderness of Alaska and have a deep love and appreciation for nature. This led me to practice nature-based spirituality and sacred sexuality. Sacred Intimacy is a calling for me and a great part of my spiritual path and life's work. This means that I approach all interactions as sacred. You don't have to believe anything that I believe for us to have a wonderful time together, however.
Expectations
Availability
Monday – Friday
10am-8pm*
*with some exceptions, as needed
To book your appointment submit the following information via Private Message or email fenixwildex@gmail.com for immediate screening:
-Name
-Age
-Phone Number
-Date, Time, & Length of session you're interested in
-A paragraph about you and your interests (please avoid explicit language)
Cancellations
I understand that life gets hectic and emergencies happen. However, my time is valuable. If you must cancel, please give me at least 24 hours notice.
If you no call/no show or cancel 2 hours or less before your appointment, you will be charged an additional $100 on your next attempted visit or you may be placed on my banned list.