+

The Sweetest Shade of Spanish…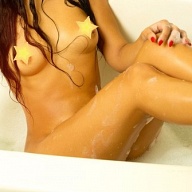 Wondering why they call her "The Great?…" XO
Hola - I'm Vivienne, and if you're looking for someone with a body to die for, who is different, then look no further. I am not your typical girl. Rather, I'm a sultry and elegant Latina Princess, right out of an old world fairy-tale, with an addictive combination of brains, love, and beauty.
In describing myself, I stand 5 ft 3 inches with a slender ALL NATURAL figure with curves in all the right places (34B-25-36)
I am eager to meet classy well-educated men, who love exploring my exotic wild side. I am a free spirit, who aims to please. I am open-minded and always looking to experience new things. I love my body and work hard everyday to to keep it healthy and toned.
I happily strive to break the mold and blow away all previous experiences you may have had. Love, affection, hugs, kisses, and Fireworks! I go out of my way to provide you with the ultimate experience, one you will cherish for a long time to come.
I hope we can get together and go on an amazing adventure together. Please contact me for an exciting time and I promise to give you a experience one you will never forget.
Interests
I am the girl who goes above and beyond for those that she loves, even if it means giving my last. A firm believer in karma, what you put into the universe will eventually come back around to you - good or bad. 20 something still learning new things about herself on a daily basis. A lover of all things sweet - pineapples, milk chocolate, strawberries, moscato. Educated and eloquent. Ultimate dream is to return back to school to pursue a degree concentrated in non-profit management and work in an environment with women and children. SUPER ultimate dream would be to open my own shelter for women and children. Material things make me smile, but doesn't make me as happy as investing in myself. Lover of great conversation - including but not limited to: ambitions, life experiences, advice. Foodie, even though it doesn't show physically. I am the girl who smiles even on her worst day, you'd never know. Love to listen & learn. Animal lover for sure, I would own a zoo if I could. Massages are my favorite, especially on my bum. Meditation & yoga keep me sane.
Expectations
Thank you for taking the time to read my etiquette page. Please don't hesitate to contact me with any unanswered questions or concerns.
Hygiene: I am always immaculately groomed and expect the same in return. Please shower prior to us meeting ~ you're always welcome to shower at my place, I may even join you!
Call if you are running late or need to cancel. I understand things happen (life is life) but please let me know as soon as possible, I will always do the same although it is a very rare occasion you will find me late for an appointment. As well, please don't be early for inservice appointments.
Contact Info
Contact
Information
External Links
Add Vivienne The Great to...