+

I have too many fantasies to be a housewife… I guess I am a fantasy.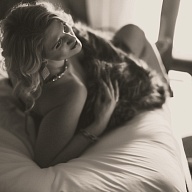 "After woman, flowers are the most lovely thing God has given the world."
-Christian Dior
Your first question is probably, "how do I find you?" The answer is…the link at the bottom of this page, which will take you to my personal website. Please do not call me. I am too busy to take calls and you will only get my voicemail. (You called me, didn't you? Don't say I didn't warn you. I am giving you all the secrets right here. You just have to keep reading)
What can I tell you about me… Well, what do you want to know? This forum is so stuffy and impersonal. I would much prefer to tell you in person, or better yet…show you. But, since you're not there yet, let me tell you this much…
If you want to know what my favorite anything is, the answer is simple and always the same…the BEST OF THE BEST OF COURSE! Do I deserve any less? My closet has a growing collection of Gucci and Chanel and my armoire stores the hearts and desires of my suitors. I'm only kidding about the latter…or am I?
You may be asking yourself, "what is the way to this exquisite women's heart? She has so many suitors…How could I possibly set myself apart from the others. It is simple really…And I am going to tell you the secret that I haven't told anyone else right now… Come close now, while I whisper these words into your ear, so no one else overhears…The secret way to my heart is through a properly filled out booking form, including your screening information. AND, for you overachievers, that really want to blow my socks off, send me an advanced booking request, see what extra brownie points that gets you! ONLY this way can we ever spend time together.
Do be a doll and read through my website. I spent so much time and effort on it to make things as simple as possible for you, so that we could be together! My armoire isn't full yet, and I am planning to steal a little piece of your heart and your desires, but only if you want me too. And trust me, you are going to want me to ; )
The Look
Alexa ColeVIP is a 5'8", curvy, 34 year old caucasian woman with long blonde hair and blue eyes.
She is available for Male, and Couples.
Interests
I have many interests…to name a few, travel, wine tasting, boating, fashion, fine dining, music, architecture, finance, beautiful cars and real estate.
Expectations
Just as you have expectations of me, I also have expectations of you. Please respect these basic wishes…they are non-negotiable.
1. Screening is of all new acquaintances. If you are uncomfortable with providing ALL screening information requested, then I will not be able to see you. I will ask to see your Drivers license the day of meeting, and name must match what you provide for screening. I do not retain your information. Maintaining your privacy is of utmost importance to me. For safety's sake, I do verify the information submitted so please be sure to double check your responses.
2. My companionship donation is non-negotiable. Donation is for my time and providing the service of companionship only.
3. I am available to travel to your requested city and travel fees are applied according to distance. If you live more than 30 miles outside of Richmond, Va, all travel & accommodation costs must be covered in advance along with a 25% deposit.
4. Cancellation Fee will be assessed for cancellations with less than 36 hours notice to accommodate my inconvenience