+

Genuine, sophisticated and caring girlfriend.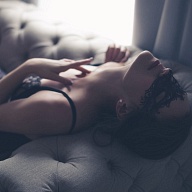 To live is the rarest thing in the world. Most people exist, that is all.
- Oscar Wilde
Only available in Paris. Fly me to you Worldwide.
It doesn't matter how you found me, just know the pleasure is all mine.
If you consider requiring the company I provide, I can already tell that you It doesn't matter how you found me, just know the pleasure is all mine.
I'll gladly tell you all about myself, but first, and more importantly, let's talk about you. If you consider requiring a lady such as me, I can already tell that you are an accomplished gentleman.
In my eyes, nothing is more appealing than a clever, intelligent man talking about what passionates him the most. For sure, you have everything money can buy and more, but somehow, there is a "little" something that eats away more of your thoughts than your everyday business does.
That small thing is called affinity, bonding, affection, sharing your true-self with someone who understands what it's like to be you. You've been working yourself to the bone to be who you are today, and to have all the things you own but does your heart hunger for something more?
You have to understand that I do not propose the classic offers some of the other ladies in the industry propose. I will only offer my time to a very few gentlemen, whom I will have chosen with much care.
Let me explain where I come from so that you can decide if you and I may be a good match. After settling down in Paris, I started working for "agencies", and I loved it. Wonderful company, fantastic times, priceless life experiences… The horizons of my world were opening for me… And so, just like that; after completing my MBA in Luxury Marketing & Management, my very first real job was offered to me : Qatar, U.A.E, here I come.
This job allowed me to discover a mix of cultures : arabic, indian, south-east asian… I have very fond memories of my times there, such a joy for life, a fancy for the finest things in life…
I then moved to Asia, and traveled extensively in the region : Hong-Kong, Taiwan, Japan, Malaysia, Philippines, Singapore and China. Once again, I was in awe at the marvels of the world.
There I exclusively catered to very high-profile friends. Those arrangements were that of an incredible life, and from there on my routine took the most improntu turn. Dinners with their clients and entourage, first-class flights all over the world, falling asleep on one continent, waking up on the other side of the globe. Entertaining business partners, cruising the Bahamas for a quick Holiday, before making it to Osaka or Beijing for a business convention…
Making my friends feel good and confortable, strong and relaxed, being quietly there as a passive support system, is such a reward For me. Being able to care for someone, give your time, patience, understanding, compassion…is not a prestation you can just get anywhere. It's a gift. A priceless gift that I only allow myself to give to those I feel can appreciate its value.
I believe in the old school days of companionship : when the company you kept positively reflected on you, when your lady would completely forget about the phone, the time. With me, you shall feel as if you were with a true friend, a trusted companion who has your back, someone who will make you shine brighter, feel warmer, laugh louder and most importantly, want to live life to its highest possibilities.
Gentlemen looking for dates solely focused on the "sport" are not welcome, nor men talking crudely. I am genuine lady, I do not create a persona when I'm meeting my friends.
Please take notice that I am 100% natural : my hair is fully natural, no coloring, no extensions. No fake eyelashes, nor fake nails. No lips enhancement, no body enhancement, my shape is toned by hours spent in the gym, etc… if you are looking for a B*mbo I am NOT the lady for you.
The Look
Rose Delacroix is a 5'5", athletic, 28 year old caucasian woman with long auburn hair and hazel eyes.
She is available for Male, Female, and Couples.
Interests
I love dancing, but I'm not much of a club goer anymore, even though I do love partying in more secluded and private situations.
When I'm at home in Paris, I would go to the gym almost everyday, being a fitness enthusiast. I take great pride in working out and taking care of my figure as a part of a healthy body-mind dynamic.
I also adore eating, finding happiness in discovering cuisines from all around the world. I've tried some of the most famous food trucks in the US, fantastic corner market stoles in remote part of China, and enjoyed the sugary sweets from Moscow's Poutchkine's café.
Most of my time is spent at home, living a low-key life, enjoying the delights of the city of lights.
Expectations
- How do you get in touch with me ?
Etiquette is the most crucial part for me when it comes to the people I will let in.
! Email only for the first contact !
I expect perfect politness and respect in your first (and every other) contact with me, that is why I ask that you write to me. That way, I can get to know you better : the words you use, your tone, the care you put into writing me something that should be worth reading from an "amant"… I will read between your lines everything I shall know about you.
Like I mentioned ealier, I love a brainy man, and an intelligent man should know how to contact me without offending me. I will never answer an email of four lines, nor one with grammatical mistakes, nor disrespectul and crude words.
Please, be on your best behavior and show me why I should reply to you and not someone else. I do not look for quantity, never have, never will.
When you contact me please send me :
- Name
- Phone number
- Occupation
- Age
- A photo of your national Id selfie of you with your Id next to your face
- The hotel where you are currently staying at
- A LinkedIn link or a professional page with your personal details (name age)
Or (in case you wish to keep your anonymity absolute) :
- 2 recent references of providers you've met in the past year.
- For couples dates : 2h minimum regular fee 300£ extra.
- 50% deposits will be requested before any date confirmation.
Anyone trying to contact me and refusing screening will automatically be blacklisted.