+

Your Scandinavian sweetheart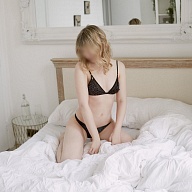 Free-spirited ingenue and eternally-curious kitten with the saucer half full
Hello you,
I've been thinking about this all day. Our meeting is long overdue, don't you think? Pull up a chair. Us daydreamers ought to stick together.
Part Godard Girl, part pre-Raphaelite muse, I'm a hopeless romantic with a wicked sense of humour; a curious cat who's powerful and silly in equal measure. I live for the adventurers, the thrill-seekers, the spontaneous bon-vivants who take the weekend very seriously. Let's throw caution to the wind, and experience things in glorious technicolour.
With my porcelain skin and cascade of golden locks, I'm the beguiling free-spirit of a New Wave ingenue. But don't underestimate me I'm no dizzy blonde. I've a head for adventure and a love of uncharted territory, and I'm always eager for new experiences with new1s. Keen to explore?
Uniquely cosmopolitan, I'm trilingual, and have travelled to more countries than I can count. I love nothing more than meeting people from new cultures. Truly, I believe our differences are what make us beautiful. What unites us, though, is our attitudes. We're the renegades, the romantics, those who know real life has no 'one-size-fits-all'. Luckily, connection transcends all boundaries. You could even say it's the same in every language.
A bit of a bookworm, I'm passionate about great conversations; those rambling chats that start over aperitifs and go on well past last orders. Where those conversations take us, who knows.
Who am I exactly, you might be wondering? My diary is full to bursting with travel, study and an eclectic array of international friends. As such, I prefer to pass my time with those whom I absolutely see eye-to-eye. Match my energy. Show me your truest self. Empathy, tolerance and open-mindedness these values are close to my heart. I don't believe true connection can exist without them.
I want us to while away long afternoons together. We can find the kind of stories you thought were only for the movies. Together, we'll brush against a higher plane, defy gravity, swan-dive towards delight. Are you ready?
Until then,
Nadia N
The Look
Nadia Nielsen is a 5'4", slender, 27 year old caucasian woman with shoulder length blonde hair and green eyes.
She is available for Male, Couples, and Trans.