+

London based tattooed petite geek next door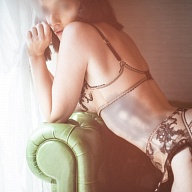 "So, what would you little maniacs like to do first?"
I live my life with two quotes in mind: "Be excellent to each other" and "Life moves pretty fast. If you don't stop and look around once in a while, you could miss it." Working as Professional Companion in such a diverse and vibrant city as London has given me the opportunity to explore its culture and people off the beaten track whilst simultaneously develop and indulge my creative ambitions.
My name is Donna Hardy the "Geek Next Door" your part-time sweetheart, adorably devilish with a wicked sense of humour and playful nature certain to keep you on your toes. I'm a petite girl – just 5'1" – blessed with a tiny waist and beautiful tattooed curves.
I'm an adventurous foodie who'll try anything once (as long as the menu is vegan!) I'm full of wanderlust, with a thirst for knowledge and magic. My interests are varied: visiting a gallery or museum fills me with inspiration, a trip to the theatre keeps me singing on cloud nine, or simply reading a good book in a quaint little café keeps the smile on my face.
University educated, I'm bright and articulate, guaranteed to be stimulating, albeit quirky company. I have a curious disposition with fascination with all things avant-garde or supernatural – perhaps we could discuss these over a glass of champagne, or cup of tea. If you haven't guessed my curiosity extends beyond conversation and cuisine. I listen with a compassionate open mind, with a natural ability to cater each experience to your intimate needs. I believe mutual respect and communication is a paramount I take your privacy very seriously, and expect you to do the same.
I prefer to make long lasting connection with patrons, but if our stars are only aligned for a fleeting moment, you'll never forget this girl next door.
The Look
Donna Hardy is a 5'2" 21 year old caucasian woman with medium length black hair and green eyes.
She is available for Male, Female, Couples, and Trans.
Expectations
Disclaimer:
You are paying for my time and companionship.
Cancellation Policy:
A non-refundable deposit is required for all new clients; a booking will not be confirmed until this is received. I understand that sometimes there are circumstances beyond our control so should you unfortunately need to cancel our date I am happy to hold your deposit if you reschedule within 30 days. I am unable to refund your deposit with less than 24 hours of cancellation. However, in the unlikely event that I cancel your deposit will be refunded in full.
Screening Procedure:
I screen prospective clients not only for my safety but to ensure that we can both relax and have an enjoyable time together. I reserve the right to cancel or end an engagement at any time if you push my boundaries, make me feel unsafe, or behave in any other way that is inappropriate to what was discussed before meeting. There are plenty of more fun ways for us to be bad!
In your introductory email include:-
• A little bit about yourself.
• Your contact details.
• The time, date, location, and duration of the prospective booking.
• A reference contact (with permission)
If you would like to write review about our time together ensure you have my permission before publishing it.