+

Where Erotic, Passionate Sensuality Meets The Perfect Blend Of Naughty…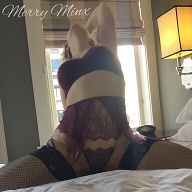 If you seek passionate, chemistry-laden sensuality from an intelligent, witty woman who loves who she is and wants to genuinely connect on an intellectual level - welcome to the world of Merry Minx.
Gentlemen,
I'm the kind of woman you open the door to and feel comfortable with after the flash of a smile.
The type of woman you'd want to take home to meet your parents…and after helping your mom bake cookies for the movie later…I'd be whisking you off to take a tour of their bedroom…
I'm the woman you share your deepest thoughts with; the one that helps you bring those thoughts to life - unjudged…and with erotic intrigue. There isn't much that denies my skin from tingling and mind from racing…
My silky smooth, lightly-scented porcelain skin, coupled with my delicious curves and long, warm, inviting body - will excite and entice. My hair, so soft to the touch, gently frames the contours of my beautifully freckled face. My lips…my smile…a passionate, mischievous treat…and often one of my greatest compliments. But my eyes… My expressive, gorgeous, hazel green eyes will mesmerize you…drawing you into me…drawing us into each other.
I am Merry Minx. Your feel-good, genuinely classy, intelligent, sophisticated woman with a naughtiness you have to experience to believe. My passion for exploration and sensuality stems from an intense love of eroticism, and an eagerness and absolute desire to please. I am playful, personable, and while highly skilled…I pride myself in being an excellent pupil. ;) The natural ability I have to personally connect on an intellectual level, allows for a heightened degree of engagement; creating an all-encompassing, enriched experience - for both of us.
Additional Information:
I WAS FORMERLY KNOWN AS THE 'MILKMAID' - Though very proud of this name and all that has been established around it, I am no longer producing enough breast milk to adequately consider myself fully lactating. As to not mislead or misrepresent myself, I have changed my name to 'Merry Minx'.
All of my most current information and pictures are always located on my site; please feel free to visit www.merryminx.com for everything you need - or would like to know about me. ;)
Thank you for taking the time to visit my little world… I am witty, charming, and possess a true zest for life and all of the amazing experiences that come our way. And sometimes - the experiences that we reach out and take for ourselves.
Let's embrace our uniqueness together, and create something with never-ending, constantly flourishing value…
…Our memories. ;)
Affectionately Yours,
Merry Minx
www.merryminx.com
The Look
Merry Minx is a 5'7", curvy, all natural, 34 year old caucasian woman with short brunette hair and hazel eyes.
She is available for Men, Women, and Couples.
Interests
Likes: Travel, sensuality, laughter, meaningful conversation, excellent hygiene, honesty, and a man who knows what he wants
Dislikes: Negativity, poor hygiene, dishonesty, close-mindedness, and alarm clocks ;)
Hobbies: Photography, reading and writing, random adventures, traveling, music; I love bits of new knowledge and learning about other cultures and geographies
Favorite Foods: Anything fresh and organic; I love seafood, steak, Japanese, French cuisine…and find it incredibly sexy when a man can cook. ;) I'll try just about anything.
Favorite Beverage: I am a huge water drinker, but I also love dark beers (Shiner Bock is my favorite), various red and white wines (though I typically prefer red), gin tonics, and almost anything made with a nice rum.
Favorite Flower: Peonies, lilies, orchids, tulips, roses, or anything with bursts of color. I love potted plants. :)
Favorite Perfume: I actually do not wear perfume, but enjoy a deliciously scented body lotion from Victoria's Secret - Love Spell.
Favorite Color: Green, but I absolutely adore all jewel-toned colors - I look best in darker colors because of my porcelain skin.
Favorite Animal: Dolphins - they bump tails for fun. ;) I just love animals in general, though.
Favorite Music: I listen to everything from classical music to hard rock, and all that falls in between. I'm musically inclined, and have an appreciation for all types of music. I particularly love the piano, bassoon, bagpipes, cello, and many types of guitars.
Favorite Holiday: I love all holidays, but Christmas is probably my favorite. The best, though, is celebrating something special together, just because. :)
Preferred Gifts: Aside from your time…cash, prepaid gift cards, new 'play toys', or anything that makes me think of you. I love lingerie, heels and jewelry, and typically wear a medium or large (panties large); high heel size: 9.5 U.S. sizing (if shoe runs the least bit small, I'd get a 10)
Expectations
My comfortable, discreet incall is located on the NW side of San Antonio (Texas) off of 1604, very near Sea World. It is available Monday through Friday, typically 9:00 a.m. until 5:00 p.m., with select weekend availability. I can, at times, accommodate earlier and later appointments with ample notice. My incall does require the use of stairs. Please inform me if this is an issue for you, and I will let you know of an alternative option. :)
Outcall sessions are available in the evenings as well as during daytime hours. Morning appointments earlier than 10:00 a.m. need to be booked at least a day in advance.
Though I can, at times, accommodate same day requests, the absolute BEST WAY to see me is to book at least a day in advance.
Day of Appointment:
Incall: Please leave your donation on the dresser in a visible spot when we FIRST enter the room. I will ask if you need to use the restroom. Please excuse yourself for a few minutes to freshen up; I have a wide variety of items available for your use.
Outcall: Please leave your donation visible in the bathroom BEFORE I arrive. I will ask to use the restroom once I get there. Session will begin after donation has been verified.
NO EXCEPTIONS.
Merry Minx's Current Rates:
HHR Incall: $200
45 Minute Incall: $250
HR Incall: $300
90 Minute Incall: $460
2 HR Incall: $560
3 HR Incall: $780
4 HR Incall: $1020
6 HR Incall: $1500
8 HR Incall $2000
12 HR Outcall: $3000
** ALL San Antonio OUTCALLS + $50 **
Austin On Demand: 3 HR Minimum Session Length at Outcall Rate
Houston and Dallas On Demand: 4 HR Minimum Session Length at Outcall Rate
I am willing to travel outside of San Antonio for an additional donation (to be determined based on how far I have to travel), and also offer extended dates, and a Fly Me To You! Package. Please inquire for details.