+

Native Texan. Exquisite physique.Unrivaled intelligence: perfection.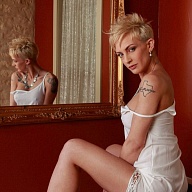 Quirky and intelligent, humorous and unique, Beautiful. Charismatic. Endlessly caring,What else is there to want?You tell me…I'm dying to oblige (I bet it booze)

Good day (or evening) beautiful people! My name is Janie Layne, one of Houston's most exclusive and sought after companions. I don't often surface to make new acquaintances [especially in the big D:, so if you have found me here…you're in luck! I won't be be around long, as I am searching for something rather specific currently…and thus far my endeavors sadly continue. In my professional life, I am a successful small business owner an eclectic artist of multiple mediums. Secret talent: i am a multi-facet musician, for 2
0+ years
These days, If I am not behind my MacBook editing photos, trying to hitch a plane to fly, creating some unique piece of furniture, or elbows deep in an engine bay, you'll most likely find me behind the stove preparing dinner or snuggling with my dogs! Kona, the rescue, and obi the poodle. However, if it's a savory osso bucco or nostalgic south
ern breakfast: take a breath, and NEVER tell your mother who your new favorite chef is. ;)
I am an artist of all mediums I can manage to get my paws on lost anything, and it isn't uncommon to see me covered in "todays" project, unbeknownst to the paint in my hair…
Let me take you somewhere you have nver dreamed of being.
A nirvana we can share that is unique to us…
It just takes one tiny step Lets advenyutre somewhere where we have never alone
The Look
JanieLayne is a 5'7", slender, 33 year old caucasian woman with short blonde hair and green eyes.
She is available for Male, Female, Couples, Disability, and Non Binary.
Presentation
Feminine
Interests
Personal:
Being a professional photographer/artist means most of my life *is* considered my "interest" . I do what i love. Lucky gal.
I am a voracious reader of all genres, an avid fan of all creatures great and small, a pianist/percussionist, as well as a fanatic of a foodie.
I am a certified auto technician (still. Thanks, pops) as well as I am significantly into my private pilot's training…which, if I am honest, may be an endeavor enjoyed externally, but never intend to complete.
I love flying, and am working on my lrivate license, but between us both…i would be just as happy being "in training" eternally, as long as I had the chance to be behind the yoke. There is nothing like the feeling of open windows and a houston sunset from the cockpit of a Cessna the size of a shoebox. Ill even show you, sometime.
At heart, I'm an artist. Creator. Purveyor of perspective. As we learn more about eachother on a personal level, you'll see the nature of my inner beauty, as well, and perhaps a glimpse of how I attempt to manifest that physically in order to share it with others.
However, Most of all, I enjoy human interaction. Nothing means anything when you don't have anyone to share it with.
What I like in you:
I don't expect or want a gentleman to mirror my interests or otherwise focus on me 24/7 . I enjoy a partner who shares my enthusiasm for the quest of knowledge, wherever it may take us. If anything, I would love for us to try something new together!
Confidence and drive in your endeavors is attractive. Jefferson always claimed he never failed…simply found 10,000 ways that did not work.
A sweet, but firm demeanor is welcome as laughter is imperative, but bullying is not. If you are rude, you are also spending your time alone. Lol.
Pride in your hygiene and an appreciation for the time I spend on mine with you in mind is not only appreciated but a request as I feel it's appropriate.
And overall? An almost unreasonable love for Adventure…
I'm an escape in myself. Am experience. Ask anyone who's been around…there is *certainly* only *one* Janie Layne. A muse. Pure catharsis…As a veteran fitness, fashion and adult model, a voyeur is my best friend. Like a bird of paradise, I maintain myself to perfection as far as I can accomplish with the sheer determination ato be the beauty outside that I strive to be inside.
Don't let that fool you, though, my outstanding intelligence and poise are the perfect accompaniment to my exquisite beauty and glamor. Along with 15+ years in human relation focused professional work comes a deep empathy and ability to feel what a soul requires to feel complete.
I emplore you to find your safe space with me…peruse the country, perhaps travel the world.
Let me be your muse…and perhaps you, mine.
"If you Cant take away Iam…
Are.you stong enough to be my man
Expectations
I most enjoy my suitors to be 30 plus, as it best suits my personality, yet I'm always open for exceptions. Kindness is a must, as the absence of it will end in your removal, no questions asked, consideration requir
I will be in my private incall in the Woodlands Heights area. As to not raise eyebrows, or personally offend my inner fashion bug. Your attire is an important;
NO JORTS , NO HATS, NO FLIP FLOPS. No T ennisnshoeS From 1786. Business casual, please, at a minimum, or you will be asked to change and return on a different date, 50% consideration still required as it is your cancelation, not mine.
A shower with towels and luxury men's toiletries will be available. If i suggest you use them, it is NOT an exception, nor a suggestion. If you are lucky, kind, or charming…ill even join you. I *love* to get wet.
CONSIDERATIONS: I will be spending all of my time and attention on and with you during our date, and any gentleman lucky enough to pass my screening shall be GENEROUSLY thanked for their gift in more ways than one…
My preference is to require a min. of a 2hr meeting on our first foray… An experience with me is simply impossible to fully enjoy with so little time…and first impressions are everything with me, and I hope you as well.
1hr 1000, 2hr 1500,3h 2000
FATHERS DAY SPECIAL 50% OFF ALL SERVICES BOOKED THROUGH MY WEBSITE!
LONGER (Most memorable experiences. For gentlemen of elevated stature who strive for excellence in *every* facet of their lives)
6hr 4000/8hr-daytime foray/night owl adventure 6000/12hr Overnight 10000/24hrs 15000
Trips, Events, Dinner Dates, Parties, and other items are options for discussion on a specific basis. Surprise me, and i may surprise you, too.
PLEASE: considerations are to be placed in an unsealed envelopE OR greeting cardnn
NO PHONE CALLS.
I do not book same day appointments, nor do I have any interest in short dates. 1h dates are only available to close friends, and only on occassion.