+

Your Sweet Southern Touch of Spice xoxo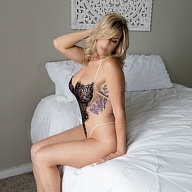 "I generally avoid temptation unless I can't resist it." ~ Mae West
"You only live once, but if you do it right, Once is enough" ~ Mae West

Greetings Ya'll
I'm Annice Rivers, and I cannot wait to meet you. I am a Mature, Sweet, Southern gal, with a dazzling sense of charm and youthful glow.
As a Texas gal tried and true, which means you're guaranteed a sweet demeanor, compassionate interaction, and an adventurous disposition.
What I hope to find in you is intelligence, a polite manor in
our preliminary conversations, and a curiousity to discover what southern hospitality means.
I find comforts in many styles of situations. You will find I can dazzle in a slinky dress, and heels. But I can also look just as ravishing in more conservative designer clothing. My style is adaptable, and if available, requestable. I love the luxurious, and live to be eye popping. And will do my best to cater to requests, especially if they are provided.
The first thing you will discover upon our meeting is the sweet, intoxicating smells. I always go about my
day smelling absolutely ravashing, and expect a equal attention to the senses from those I choose to
spend my time with. Floral scents and other hints of vanilla will set the mood for utter relaxation when
you're with me.
I value safety above else, and do require thorough vetting. This is to ensure our time together is as
perfect as can be. Knowing I'm safe in your hands is as important to me as you knowing you'll be so very
well taken care of.
I want nothing more than every experience we have together to be lasting, addicting, and leaving you completely enamoured. Yet, I want you eager to see my warm smile and sparking eyes as soon as possible. The thought of my velvety skin will dance in your memory until we can see each other again.
I look forward to hearing from you …
Vivaciously Yours,
Annice xoxo
The Look
Annice Rivers is a 5'6", athletic caucasian woman in her early 40's with medium length blonde hair and hazel eyes.
She is available for Male, and Female.
Interests
I love to travel, I have a passport and am always ready for an adventure, Ive been all over the world and I want to make a few more trips and definitely have some bucket list items
I like to keep myself in tip top shape and do that by working out daily, yoga, pilates, running, and biking
Im a bit of a foodie and have a varied pallete , and can whip up an excellent meal
Anything outdoors …
Expectations
CONDUCT
I love a man who knows how to conduct himself as a gentleman. I am passionate about spending time with you. Prior to that, my biggest thrill is when a man can engage me in intelligent and sophisticated conversation and conduct himself accordingly.
SCREENING
All new clients are requires to be verified prior to scheduling. Advance scheduling is required. Verification can take 24-48 hours
APPRECIATION
There is no negotiation of my considerations
CONTACT
All contact is via email only. At no time during the screening process or our time together will there be any lewd talking, vulgarity, or references to explicit acts, no mention of anacronyms that suggest lewd or explicit acts
GROOMING
I go out of my way to ensure that I am beautifully presented and clean. I prefer a well-groomed man, please ensure that you are clean and smell good, or be prepared to take a shower and freshen up upon arrival
LATE
Please be respectful of me time as I have set aside specifically for you. If you are going to be late, please email, text, or call. Be mindful of your time and or travel as a late arrival does not extend your time past what we have scheduled. Please do not overstay. If you are running late and I do not hear from you for 20 minutes our scheduled time you will be marked as a cancellation and cancellation fee will apply.
CANCELLATION
I understand that life can interrupt our plans. Should you need to reschedule our date, I'm happy to accomodate you within reason.
If you cancel anytime within 48 hours of the day of your appointment, you will be required to pay a 50% cancellation fee. If you cancel within 24 hours of the day of your appointment, you will be required to pay 100% cancellation fee. If you cancel twice in a row you will have to secure future appts with a 50% deposit or I will no longer accept requests from you.
Cancelling anytime prior to the 24-48hr window will incur a 25% cancellation fee
Thank you for your understanding