+

BUSTY Midwest Blonde Visiting NYC 06.01-06.03 staying in Manhattan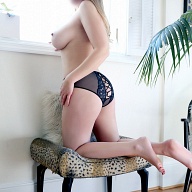 Smart and sassy Midwesterner looking for a good time.
Hello Gentlemen,
It's a pleasure to meet you. I'd love to get to know you and hope that you feel the same way. I'm the quintessential Midwest blonde with blue eyes. I have small town charm, but have travelled extensively and take pride in my ability to blend into any situation.
Personality wise I'm passionate about many activities and love trying anything new. I guess you can call me adventurous. I enjoy a movie cuddling under a warm blanket as much as I enjoy drinks with friends and good conversation. My palate is constantly being stretched through my obsession for good food. I'm a foodie in every sense of the word!
I'm a confident woman and look forward to being your muse. Because I am busy and not always able to answer the phone with discretion, first contact is always through email. Once we've established some familiarity I do give out my personal cell phone to select friends.
I look forward to hearing from you.
Yours,
Saige Elizabeth
FAQs
When are you available?
I will be staying in Manhattan and can offer both incalls and outcalls. I plan on travelling her often on a regular basis, so if those dates don't work for you please feel free to let me know when you're looking for and we can try to work something out.
What are your rates?
Lucky for you I'm new to the business and have very special introductory rates that won't last long. Next time I'm in town I'll be charging the full rates.
1/2 Hour- $375
1 Hour - $475
1.5 Hours - $700
2 Hours - $900
4 Hours - $1750
6 Hours - $2500
12 Hours - $4000
If you'd like a longer arrangement, I'd be happy to discuss.
Do I need to be verified?
Yes, and I make it worth it! You can be verified by references or personal info. If you haven't already done so, please let me know which method of verification you would prefer and I'll get back to you right away with more information.
Is it really you in the pictures?
Yes, it's really me in the pictures! I included a picture on my ad where I wrote my name in lipstick on my body for you to know that it's me. All of my pictures are very recent (taking in the last couple of weeks) and I'm sure you're not only going to love what you see, but we're both going to have an amazing time together.
Do you require a tip?
No, tips are always appreciated but never expected or required. My compensation covers everything and there are absolutely no hidden tips, fees or anything else.
Contact Info
Contact
Information
Add Saige Elizabeth to...