+

Your British Inamorata In Dallas.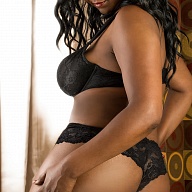 Sabella Anne … a fresh new way to the joys of private naughtiness. A little bit exotic … a little bit quirky … and a genuine sensual goddess from head to toe.
The Look
Sabella Anne is a 5'7", curvy, all natural, 29 year old black woman with medium length black hair and brown eyes.
She is available for Men, and Couples.
Discover your new inamorata…a whole new world.
I'm Sabella Anne, and you've just walked through my door for the first time. Physically, you see five feet, seven inches of graceful ebony gorgeosity: flowing black tresses, brown eyes in which to lose yourself, luscious lips whose native language is the passionate kiss, a sweet and flirtatious smile between coquettish dimples, and further down … what a man lives for. Generous 38DD breasts and lyrical curves atop statuesque legs, all accented by elegant lingerie, stockings and garters and fancy little bits of this and that. You hear my voice, with its ever-present reminder of my native England — yes, I'm happily British-born. One lovely gent said he heard warm hints of another accent mixed into my voice.
Now, turn from your physical senses and get to know the young woman you're visiting, as we chat a bit. I do so adore a mature gentleman, well-versed in the arts of conversation and mischief! I'm well-read, and my interests in music, the cinema, sport, and music are eclectic, and perhaps a bit quirky … if you can sing a couple of the old standards in the style of Sinatra, I may just melt!
It's time to begin our tour of the sensual. Perhaps sweet, perhaps passionate, perhaps with a touch of forbidden spice — or why not all those and more? Let's combine your mood-of-the-moment with mine, add a dash of my naughty imagination and adventurous spirit, and see where the flow takes us. Our time is never routine or scripted — it's more like a spontaneous dance, where you lead, or I lead, or we take turns, or we simply follow the muse of passion wherever she leads. At the end, we catch our breath, and you'll experience Sabella's Paradox … where you wear a big, relaxed smile and wonder how it can be that you're completely satisfied and still can't wait for next time. You won't be alone. I'll be feeling the same way.
Now (sigh!) the tiresome details. Safety, yours and mine, is paramount, and all my new friends must be screened. To make this faster and smoother, if you're a P411 or Date-Check member, contact me through those sites with a message or appointment request. When you contact me, please have your recent references handy. I am "newbie-friendly," after screening, of course. My screening form is on the "screening" tab at my website, or you can text or email for one.
An old song tells us that "love makes the world go 'round." I think naughty fun makes it go around even better. Let's not let our planet slow down — let's do our part to keep it spinning! Come and visit me for the first time; the return visits will take care of themselves…
Interests
Travel, architecture,music, art, photography, concerts, sporting events, and fine dining among others.
Expectations
Please visit my website for more.