+

A joyous and sublime time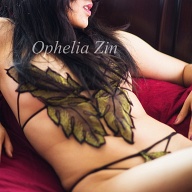 Treat yourself to a thrill!
My name is Ophelia. I carry the beauty and touch of the Orient. Empathy, warmth and sincerity are traits I possess. I have a love for books, an appreciation for the absurd, and an appetite for adventure. I can offer intelligent and fun conversation if you want to talk; or remain silent if that is your wish. I propose we make the most out of our experience in this place and time. Treat yourself to a thrill:)
Interests
Books, art, great stories.
Expectations
I am hosting in San Francisco Wednesday, October 12th and the early morning of Thursday, October 13th. The requested gift is 300 per hour. The requested gift is for my time—nothing more, nothing less:) Please email me your name, contact info, desired time and location of date. We can exchange phone numbers and go from there.