+

A Liaison That Never Thinks of Tomorrow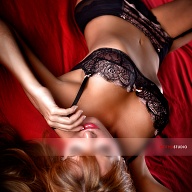 "This moment contains all moments."
- C.S. Lewis
The passion we make begins at this very moment. As an esteemed gentleman, the pleasure you seek must be sweet and luxurious - the kind that most only dream about but rarely discover in a true woman.
Our indulgences are rich with deep conversation, a lust for fine cuisine, vintage wine and each other. We sing an intellectual song that is so gratifying. As you will soon discover, I am a distinctly unique woman who wouldn't have it any other way.
Because adventure runs through my veins I can never sit still for long. A vivacious energy shapes my personality complemented by an impressive intellect which fuel my daytime career. Then, there are times when I think only with my body and my sensual instint takes over.
As a companion in her late thirties, my figure is absolutely exquisite; a vision of pure fitness, good health and immaculate hygiene. Something about my smooth, clear skin and lean curves speaks of an inner vitality. Couple that with my womanly wisdom and you have a real keeper. From head to toe you think only about me, even when we're dining at our favorite restaurant lost in amazing conversation and spectacular cuisine. Think what that does for dessert!
What intrigues you most is how much I love life. Just being in my presence revives you, gives you a sense of vigor and fuels your enthusiasm. Why not see more of me on my website? Then, do reach out. Screening is essential but simple and clears the way to start this extraordinary adventure. Be sure to express a few tasteful details about the gentleman that you are. There are no more words to describe what our connection will do for your spirit. Come find out for yourself.
Almost yours,
Olivia
Interests
When was the last time you met an autonomous woman with an exquisite appearance and a figure to die for? I am that atypical woman who moonlights for pleasure; the kind of girl who attracts sincere, lasting alliances. In short, I am the one you've been looking for.
Like you, I am dedicated to my daytime profession so the time that we spend together is aboutquality. I am a companion who connects on a deep level with the gentleman who is ready to break out of his mold and live a little. There is a incredible energy about me, a radiance that you find incredibly refreshing.
One of the sexiest qualities in a woman is her intelligence, don't you think? My wisdom and formal education mark me as a great conversationalist. Our communication is deep, insightful and intoxicating all at once. It is a chemistry that doesn't come along every day and we find ourselves so into each other. Why resist?
I like a man who is into healthy diet and exercise, like me, which keeps us both fit and trim. In my late thirties, my body is in amazing shape and my energy level at an all-time high. My face is youthful and pretty with flawless skin that glows. I practice yoga on a daily basis and enjoy longwalks on the beach. I am very much into traveling, flying (yes, planes), photography and can easily be considered a gastronome and lover of fine wines - all in moderation, of course. What do you do for kicks?
The mutual desire for passion and intellect in a luxurious environment of affection is the allure that pulls us together. I'd love to hear from you and a few unique details about the manbehind the computer. Do share.
Expectations
Treat me how you want to be treated :)
Oliviacarlton.com