+

Traveling in Europe October 25th to December 5th. I'll be back ;)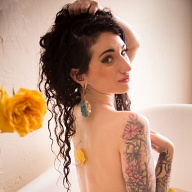 Experience bliss and intimacy with this rare beauty.
When was the last time your knees got weak, your face flush and your heart started pumping just a little bit faster?
My name is Olivette, and I wanna make you melt.
Timelessness is the warmth of my breath on your cheek as you feel the electricity of my fingertips tracing the meaning of you. It's my desire to craft a calming space for your exploration. I long to look deep into your eyes and create a genuine connection. I find that the longer I spend with someone, the deeper we are able to surrender…to relaxation… to touch… to each other.
Like a sophisticated wine, I am a well-balanced blend from many varietals - French, Persian and a nice Jewish girl to boot. I'm told that my background shows in my luscious dark hair, juicy lips and exotic eyes, my lithe slender figure and pillowy curves. It makes me feel so good to be worshipped for my femininity. Let's move together, slow and sweet like honey.
If you saw me in a cafe, you would guess that I am free-spirited, artistic, and adventurous. But if you take the time to get to know me, you'll learn I am quite sweet and nerdy, too. I love to go out dancing, to see great cinema, and getting my hands dirty gardening and painting. Stimulating conversation is my favorite, and I love to laugh and find common interests with friends old and new. I wonder how will you make me smile?
You are a compassionate person in need of intimacy and pleasure without the trappings of an antiquated dating ritual… You are tired of holding back your passion and you need someone who can match it.
The world expects so much from you! It brings me pleasure to invite you to be a guest in my world of playful fun and feminine beauty. I'm endlessly curious, and I want to learn what excites and interests you in your life as well as the spot on your body that I touch and it drives you wild.
I do consider myself to be an elegant dame, though I'm told I can get a playful spark in my eyes when the mood is right. I come alive the most when I have a chance to allow the rest of the world to melt away and transform you into my blissful creature. I'm demure and you'll also find me quite silly at times.
Endless hiking and dancing has given me a vitality of which I am quite proud and yet I maintain my natural feminine softness and 32Gs.
Privacy, kindness, and impeccable hygiene are of the utmost important to me, and that is a two way street. I do screen, and am strictly reference only, so please have a couple of references ready for our first contact. Please be aware I live a full and active personal life so I am rarely able to accommodate same day appointments.
I will not discuss intimate details so please be respectful and discreet. Any attempt to do so via correspondence or in person will result in immediate termination of our conversation or date.
I welcome correspondence from any polite, generous person regardless of race, gender, orientation, disability, body type or appearance.
Come get lost with me…
Sincerely,
Olivette
P.S. Before contacting, please take the time to carefully reveiw the information on my website. All your standard questions will be answered there.
Interests
I have many interests! I am a record collector and I live for music (you get extra points if you play an instrument). I have been a book worm ever since I was little, from Camus to Atwood I read a little bit of everything. I love the outdoors and try to run to the woods as much as I can. Fine dinning and fancy cocktails are always.
I adore playing dress up and would love to be your doll! Heels, lingeries and such are always welcomed. I also get tattooed quite a bit and love sharing my ink with others. Maybe I can show you?
So basically if you would to chat about Battlestar Galactica while I model stockings for you hit me up :) I have a lot of interests hopefully we can introduce each other to many things!
Expectations
PRIOR TO CONTACTING ME:
Before contacting, please take the time to carefully reveiw the information on my website. All your standard questions will be answered there. PLEASE NOTE I AM PREBOOK ONLY UNLESS YOU ARE A RETURNING FRIEND.
DISCRETION:
I am a discreet person by nature. In return, I ask for the same pleasantry during our correspondence, our friendship and after we meet. As I do not offer illegal activities, discussing them will not be tolerated and I will be forced to end our correspondence.
SCREENING
Both security and privacy are important for us to establish a safe, open and honest dialogue. It is necessary for my safety and security to verify everyone with whom I may meet. My discreet and painless screening process can be done over the phone or via email. Your privacy is very important to me. Any information given to me will be treated with the utmost confidentiality and respect.
COMPANIONSHIP
Whether we share a delicious dinner or cozy up with a glass of wine listening to records our time will be intimate, safe and exhilirating. Our time will be treasured and we will develop a meaningful friendship.
$500/1hr
$750/90mins
$1000/2hrs
$1700/4hr dinner date
$3,500/Overnight 12 hrs
$4,500/Extended O/N (16 hours)
$5,500/Entire day (24 hrs)
(I grandfather rates for friends I have seen within six months)
COUPLES
I can't think of anything better then spending time with you and your significant other!
$850/90min
$1100/2 hrs
$1900/4hr dinner date
If you enjoy spoiling ;) http://www.amazon.com/gp/registry/wishlist/35GYM1J…