+

Sweet, Sexy, Sassy DDD Blonde Ready to Spoil You!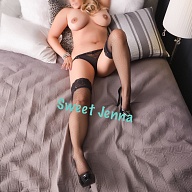 The Look
Sweet Jenna is a 5'3" caucasian woman in her early 40's with long blonde hair and blue eyes.
She is available for Men, Women, and Couples.
Imagine an escape into a space tailored specifically for you. Step aside from everyday stress and enter a world of relaxation and exhilarating companionship with someone you can fearlessly allow to see your true self. Invite me to be your confidante. I am a people lover and very intuitive to individual needs. I have excellent reviews, but don't rely on those to predict our experience. I'm adventerous and enjoy each new journey. You will enjoy my natural ability to make those around me feel comfortable, as well as my optimistic, non-judgmental and open personality.
My company will be very much enjoyed if you are looking for a companionship from someone well traveled, an intelligent conversationalist, who is passionate about life and new experiences. My smile speaks volumes of my positive outlook. I'm filled with the maturity of many life lessons, yet youthful and sometimes a bit silly. You will find me gregarious with a bit of a dry, dark and sarcastic sense of humor accompanied by a contagious laugh.
Although low volume and semi under the radar, I do have friendships with a select few ladies I enjoy. "Mind blowing" is the word I often hear when describing our duos! I will be happy to provide details.
I'm happy to make every effort accommodate wardrobe requests, and be sure to let me know if you have any refreshment or atmosphere preferences so I can be an excellent hostess. I'm a non-smoker, extremely particular about my hygiene and take very good care of myself. I would appreciate the same hygiene consideration. I always have a shower, fresh towels and mouthwash available for your convenience.
Are you ready? Let's plan our escape. I require basic identity information to be given prior to our meeting, see verification info below. Please don't ask for more pictures. The ones you see here are recent. I am often not available same day. Please be ready to provide info and schedule when you contact me. I very much appreicate scheduling in advance. You can find my reviews #283600.
350/hr One hour minimum* (couples 500)
250 half hour (when available)
525 90 minutes / 650 two hours
1450 five hours of my undivided attention, including a lunch or dinner outing or delivery
2200 exquisite 12 hour overnight encounter including a dinner outing
800/hr with my girlfriend and I (1100/90 mins ~ 1400/2 hours) - specifics vary depending on which one of my friends we choose to invite to spend time with us
Please handle gift at the start of our time together by leaving in a conspicious place. If our time begins in public please enclose in a card or gift bag. I do not discuss money, and communication will cease if any questions are asked about services.
I am, always have been, and will remain 100% drug free. ANY mention of drugs will cause our communications to cease.
Verification Reqirements: Please provide your name , age, phone number, brief physical description, email and references from established providers. Please also provide links to their ads. Verification is required prior to confirming appointments. I apologize in advance but I am not newbie friendly and your references must have an established profile.