+

Have A Little Faith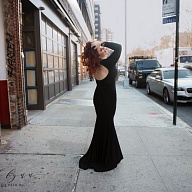 "In order to know virtue, we must first acquaint ourselves with vice." -Marquis de Sade
Have you ever wanted someone to look at you with the same depth and longing that you see in the eyes of new love? There's the spark of electricity that jumps from their skin to yours as your hands accidentally touch for the first time. That connection, those butterflies, the racing heart: this is the inspiration for literature spanning hundreds of years. Everyone should be so fortunate to experience this type of relationship once in their lifetime. Let it be with me.
My name is Faith, and I invite you to fall in love with me. Let me be your best friend, greatest love, and most fervent confidante. My piercing green eyes and fire red hair will make you weak in the knees. I am an articulate, cultured business woman who loves life and making connections. As humans, we crave the companionship of others. It transcends age, race, and social class. My entire demeanor from the first interaction we have is my way of reaching out and touching you. It's in the language I use, to the way I engage in witty rhetoric.
What I offer is love. I offer to hold space for you with the giddy excitement of a budding romance, but the safety of knowing you won't be castigated for any inherent insecurities or nerves. I want you to fall in love with the way we are together. Love us. Love my infectious laughter and the way that I gently graze your skin with my fingertips, or the passion with which we kiss entangled in one another. Feel the energy exchange as we stroll the shops together, or giggle at me as I tell you how excited I am to finally meet you, because you can hear the authentic joy in my voice.
I wear my heart on my sleeve and make no qualms nor apologies for it. One of my favorite quotes is by the much-revered F. Scott Fitzgerald, "They slipped briskly into an intimacy from which they never recovered." I want to experience those feelings together, knowing that once our time together has ended, and we've both turned back into pumpkins, we're better for having known one another.
The Look
Faith Lynn is a 5'8", all natural, 27 year old caucasian woman with long red hair and green eyes.
She is available for Men, Women, and Couples.
Expectations
I reserve the right to refuse a request for any reason at any time. That being said, I will work with you to accommodate your request to the best of my ability.
With your initial request for a meeting you must provide the following:
1.) Full legal name and employment information. If your initial request is not from your work email I may require a separate generic email verifying the information.
2.) You may provide the name, website and email address of at least two other providers that you have seen recently and can vouch for your good behavior.
3.) I will also require a copy of your government issues ID for screening purposes. Once we establish contact, I can happily supply a secure method for sending this.