+

East Indian Companion Sitara Devi- Come Explore The Joy Of Pleasure With Me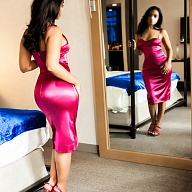 Let us together pursue pleasure and passion as if our very existence depends upon it, for we are mortal beings and lust is the food that nourishes our souls.
Namaste,
How would it feel to let go of all your responsibilities and unleash the wild animal within you?
Does being enveloped in a warm loving embrace by a beautiful and sensual exotic Goddess make you tingle all over?
I am Sitara Devi, and I am this woman that you are yearning for. A unique blend of East and West, I am of Indian heritage and your American-Girl-Next-Door pleasure guide and rejuvenation companion. I am petite in height, 5'2, with delicate curves that frame my caramel skinned body. With long dark wavy hair and big brown eyes, I am skilled in the ancient Indian arts of Tantra. Educated with degrees from a few higher level universities and a passionate lover of the arts, I truly enjoy spending time in the company of educated, articulate and well read men like yourself.
When was the last time you were able to let loose and simply enjoy yourself in the company of a beautiful and and enticing woman where you could escape from the rest of the world and just relax?
Dates with me are a 5 star experience, something a man like you deserves after all the hard work you put into your daily responsibilities. From enjoying seductive banter over a bottle of high quality wine, to savouring a meal infused with laughter and flirty conversation, an evening with me is all about exploring the joy of pleasure and passion using all of your senses.
If you are a true Renaissance man, someone who enjoys luxury living, then I am the perfect companion for the sensual and soulful adventure you seek. Take a look into my divine world by visiting my website and if you are ready to embark upon the journey of a lifetime, then I am excitedly waiting to hear from you!
The Look
Sitara Devi is a 5'2", slender woman with long brunette hair and brown eyes.
She is available for Male, Female, and Couples.
Interests
Do you enjoy the finer things that life has to offer from Broadway shows to wonderful new cuisines at upscale restaurants over a great bottle of wine?
Perhaps you crave a wild adventure, something to help you escape from the mundane routine of life and really let loose?
Then I am the perfect companion for you.
My tastes for adventures in life run far and wide. I love to learn and currently am exploring the world of Tantra through many seminars and workshops that I have the opportunity to attend. I enjoy travel and always keep a bag packed so that I can explore a new city with you at a moments notice. I have both sexy heels as well as sneakers in my wardrobe so if you want to dance the night away and paint the town red or go hiking somewhere in nature I am a lady with a versatile taste for experiences.