+

Your Hidden Gem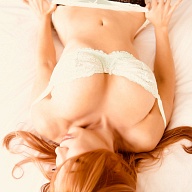 Once in his Life, every Man is entitled to fall madly in Love with a stunning Redhead
New York May 28-June 1
Hello my Love,
You found me! Now the question is:
"How many ways can we delight each other?"
This is what I love to Do and Be and Share.
If you allow me, I promise you an enchanted "time-capsule encounter" lifted from the Ordinary into the Extraordinary.
I want the rapture you feel when we share time, to surprise and delight you.
I want you to feel things you haven't felt in ages.
Or ever.
I long to take you on a journey inside yourself
and I love to inspire the words, "I've never felt anything like this before"…
If you like petite and curvy, I've got that sweet, femme fatale figure 34DD-26-36 5'4" and 111lbs. My lips are full and soft, my hair is long and sometimes strawberry, sometimes darker auburn depending on my mood—-
and yet, I think my most memorable feature will be my feather-like fingers that are like goosebump creating antennae.
I've no tattoos, and the only thing pierced is my ears (and sometimes my Heart)
Mature and sophisticated, (42), I love the heightened Artistry I've gained from experience.
I love to cultivate long-term relationships as they are so joyful to anticipate.
Come, join me, and at least for our first date, leave everything up to me.
(I think we might really like each other)
The Look
Scarlett Sasa is a 5'4", curvy caucasian woman in her early 40's with medium length red hair and hazel eyes.
She is available for Male, Female, and Couples.
Interests
I love Stories. I love reading them, writing them, watching them, hearing them…I love being with people and hearing their lives, adventures, frustrations, journeys…And I love being with people who enjoy that deeper exploration of each other.
I love Comedy. Stand up, Sit down, Lay down. All Comedy.
And animals. In another life, I think I may have been Snow White as I seem to collect many Woodland creatures and we speak-a-the-same-language. ;)
Expectations
I see Gentlemen of class and kindness.
A Gent will have taken the time to read my website and when contacting me initially, by my email, he will address me by my name in the salutation. (not 'Hey you"…what? I know!)
***Please include two websites and emails of two other Whimsical Writers like myself who are happy to give you a reference.
Or P411 member number is perfect as well.
When I travel, my private writing sessions sometimes get booked in advance, so please let me know when and for what time period you are looking to create our meeting. If you are able to plan our time in advance, it gives me the ability to complete our screening (I can't see anyone I haven't screened)
I list my travel on my website
My TRAVEL DATES thus far:
New York May 28-June 1
My home is LA and I am available in LA and OC to visit you
Whimsical-Writing Private Workshops:
if you prebook in advance, I'm happy to remove $50 from the cost of the workshops.
Meaningful Articles—One Hour $650 ($600 w advance planning)
The Lyrical Essay—An Hour and a half $850 ($800 w advance planning)
Otherworldly Novellas—Two hours $1100 ($1050 w advance planning)
Timeless Classic—Five to Seven Hours $2600 ($2500 w advance planning)
Create your Novel (101)—Twelve hours- $4000
Thank you my soon to be sweet partner in creativity…
I will leave it to you and the Universe!