+

Be happy for this moment. This moment is your life. - Unknown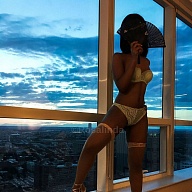 The Look
Rosalinda is a 5'5", slender, all natural, 25 year old black / latina woman with short black hair and brown eyes.
She is available for Men only.
Dear pal,
Somebody once said, "1 universe, 8 planets, 204 countries, 804 islands, 7 seas, 7 billion people…" and you may still have the pleasure of meeting me. If you do aspire to meet me, allow me to let you peek into the window of my universe.
I am 'Rosalinda', deriving its spanish meaning of Rosa for Rose and Linda for beautiful. Perhaps, I may let you be the judge of that. Though, I consider my self a delicate and beautiful soul with an ever growing inquisitive mind.
Standing at 5'5" without heels, you may wonder how a slim body can be as curvy as the geographical foot print of Brazil. My Clear full length legs have once received a comparison to to the mesmerizing view of the Nile River in Northeastern Africa. Tell you more? My dark melanin rich skin and daring persona only accentuates the fact that I am a reminiscent of the legendary black panther, which can be found in the wilderness of Malaysia.
If you are lucky enough, and only if you are that lucky, you will be able to see how my dark hair would imitate the movements of my hips while I dance to carribean drums as if I were in the Havana Malecon. Or maybe we can just celebrate the magic of New York City as we both attempt to sing 'My way' by Sinatra or maybe in 'our way'? But before that, I must warn you, I hold no responsibility how long your being may feel entrance.
But why spoil the surprise with more descriptive details? Rather, we should aim to make a reality of our imagination. 'Till we meet, let's keep our dreams flowing.
Au revoir,
Rosalinda
Contributions:
1 - 500
2-800
4- 1200
6-1800
Extended date available.
Interests
Reading, Traveling, dancing, museum trips… indeed, a never ending list of activities that doesnt seem to satisfy my curious spirit for too long. May you help?
Expectations
Any exhange of finacial contribution is solely and only for time spent modeling and/or as a social date/chaperone. Anything else is a matter of personal choice between two consenting adults and in no way or any form contractable now or in the future.
Refrain from sending vulgar emails as does will be erased. Please understand that our discretion and safety are parallel and of most importance.
When emailing me, introduce yourself. At a very minimum include your full name and employment information. Two established model references with preferred contact information and website.