+

Whip-smart blonde hourglassy beauty, luxury companion, force of nature.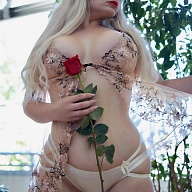 "I don't want to repeat my innocence. I want the pleasure of losing it again."

- This Side of Paradise
FINAL AVAILABILITY
San Francisco: Oct 16-22 | Nov 4 -15
NYC: Oct 23-30
Thank you to everyone who has supported me on this journey.
Existing friends, if you wish to remain in contact once I go under the radar, please email me.
I get that this is kind of a weird situation and that we're probably both a bit nervous, but never fear, you are in exceedingly capable hands. I'm told I'm incredibly warm, friendly, and open (not to mention devastatingly sexy, beautiful, gorgeous, azure eyes, long flaxen hair, etc etc). I have melted the most cynical and reserved hearts with a killer combination of openness, affection, and a healthy dose of joie de vivre.
A disarmingly charming lass with a soft accent and a passport with only a few blank pages remaining to its name, I'm the endearingly eclectic result of a private school education, a childhood mostly spent reading everything in sight and pretending like I was older than I was, and an upbringing in multiple countries. I really love dad jokes, smart people, and cheese. I'm hardly ever serious.
I have a grad degree and I'm too smart for my own good (but I'm not stuck up about it - though I'd say I'm in the 0.1% of the population that knows the difference between 'discreet' and 'discrete'; I'm both, by the way). My previous career ensured that I'm permanently well-informed, engaged and alert, and can talk entertainingly on almost any subject. I really appreciate a good, hard… conversation about this, that, the other, the State of the Union, what the market's doing, that Economist article - whatever you like.
I freely admit I can also be quite (very) silly in the right company, and I don't really buy into Myers-Briggs, but I'm between an ENFP and an ESFP (they're both fun). If you are a wielder of puns and jokes that make people groan, we will get along famously. Wit, charisma, and compassion go much, much further with me than good looks. As I'm sure you'll agree, an ugly and dull personality with a pretty facade isn't much fun after the first twenty minutes or so.
Basically, if you're tired of inauthentic experiences, cold interactions, touch-me-not hauteur, or all of the above, then we should talk. I really enjoy being close with people and I'm here to make sure you leave walking on air.
While I look like butter wouldn't melt, I have always had a yen for the "other" that just won't quit. There are more complex places in me asking to be explored. As voracious a liver of life as I am a reader, I consider myself a true sensualist: be it people, wine, great food or travel to far-flung places, my life is based around incredible experiences. Care to share some with me?
My double life here represents a journey of self-discovery for me, and of drawing you into that world with me, if only for a little while. No life is complete without pleasure, and everyone deserves to feel wanted.
My life is also about real connection. I reject the fake, the dishonest, and the insincere. I am a bad actress and a worse liar: I have no constructed persona, no script. You'll find me exactly as I claim to be: warm; open; funny; intelligent; empathetic; and, most of all, real.
So come on. The SS Adventure is about to embark from this particular dock. Are you on board?
The Look
Nova Swann is a 5'3", curvy, all natural, 27 year old caucasian woman with long blonde hair and blue eyes.
She is available for Men, Women, and Couples.
Interests
I am a highly social creature and very much enjoy anything that involves meeting, talking to, and being with other people, be it at the gym, my favourite wine bar, a show, the theatre, or just a picnic in the park with friends.
I am a wine fanatic and love nothing better than finding an excuse to open a bottle with a companion. On sunny days, you'll find me either cycling around looking for an interesting cafe to spend a few hours in or lying on a rug at the park with a good long book (I'm a speed-reader). I adore leisurely dinners with people I like (you?) and am a carnivore with a near-constant hunger for great sirloin done rare.
Having been brought up abroad, it goes without saying that I have wanderlust and love to travel. I've been across Asia, Europe and America, but still have many places I'd like to explore. Maybe my next adventure will be with you?
Expectations
San Francisco & New York City
Girlfriend | Risque | Bespoke
1 HOUR: 800 | 1000 | 1200
1.5 HOURS: 1000 | 1300 | 1800
2 HOURS: 1400 | 1800 | 2200
3 HOURS: 2000 | 3000 | 4000
4 HOURS/dinner date | 2500 | 3500 | 4500
6 HOURS/dinner + a show | 4000 | 5000 | 6000
14 HOURS/overnight | 4500 | 6500 | 7500
Please contact me by email or via my website with:
Your full name
Your age
What date you want to meet [eg. Feb 7]
What time you want to meet [eg. 8pm]
How long a meeting you'd like [eg. 3 hours]
What experience you'd like [eg. Risque]
Your screening information [2 references from reputable companions OR employment information]