+

Witty Sensualist with a penchant for Tender yet Heart Racing Moments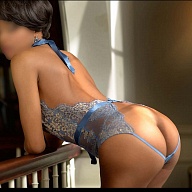 In this fast paced world of hustle bustle, I believe its imperative to lock ourselves away~ even if only for a few sweet hours and Connect.
The Look
Naomi Vargas is a 5'8", slender, all natural, 26 year old black / latina woman with medium length auburn hair and brown eyes.
She is available for Men only.
I'm a sweet and easy going girl, born and raised in New York City. My NY experience has exposed me to wonderful opportunities to indulge in other cultures, perspectives and aided me in becoming an exceptionally open minded young woman. Its also heightened my Wanderlust and determination to see, experience and feel More… At heart, I'm a true Sensualist with a penchant for Epicurean Desires, Tender moments and Heart Racing Experiences.
Whilst here in NYC, I've worn multiple hats and, up until a few short months ago; was a full time double major at a leading University. Now that I am no longer immersed in my studies, you'll find me exploring our city's fantastic museums & galleries, dining and traveling with friends and, connecting with sweet, funny, witty individuals.
Unabashedly, I choose not to live in the realm of the typical and predictable; I relish in the idea of stimulating new friends and provocative delights. And, I welcome you to explore those sensations with me as well.
I've been described as a petite, lithe young woman with decadent caramel skin, luminous full cocoa eyes and pillow soft pink lips. With an easy laugh and radiant smile, I've been told I, stop men in their tracks and send pulses racing.
You and I
I believe the connections we make by choice can at times be more fulfilling then chance. Life is so much sweeter when we make the time to relax, decompress and connect with one another. It's amazing what a touch, a gaze, a stimulating conversation can do to ones soul and energy. In this fast paced world of hustle bustle, I believe its imperative to lock ourselves away~ even if only for a few sweet hours and Connect.
If you're a chivalrous, respectful gentleman with an affinity for a seductive & sweet young woman, with a great sense of humor (it'd help if you're someone who enjoys to smile and laugh a lot); I invite you to connect with Me.
Allow me to be your port of calm in this mundane and often stormy world; the sweet ending to a long day. Let's create new memories and indulgences and leave the boring and mundane world behind…
Until then friend,
xoxo
~Naomi
Interests
Few of My Likes:
I've never been one to conform and have always prided myself on being a delightfully, sweet self professed Geek and Bibliophile at heart. I enjoy spending my spare time:
-Reading~ everything from Autobiographies to Political Thrillers and Science Fiction
-Art Gallery & Museum outings
-Watching Documentaries & Films at Art Houses
-Exploring known (and unknown) Speak easys & Jazz Clubs
-Bourbon and Rye tastings ~the fastest way to my heart is thru a bottle of Pappy Van Winkle
-Live Music & Concerts
-Conventions~ if you need a date to Comic-con, I'm your gal! I can be the Storm to your Wolverine. Cos-play makes the heart grow fonder
And, like any healthy NY woman I enjoy:
-Yoga and stimulating exercise~ Lets spend the day scaling 30 ft walls or at Trapeze school
-Spa Days/Weekends
-Cheese &Wine Tasting
-Chef classes~ Lets make one another's mouth water
-Dancing & Swing Clubs! ~ We can paint the town red and hop on the good foot
Expectations
I ask that you graciously present me with my donation within the first 15 minutes of our meeting. Needing to ask for said consideration will create an awkward initial introduction and I would hate for that to impact the initial quality of our time together. Lets start off on the best foot possible!
If we are meeting in a private location, donation may be left in an unsealed envelope in plain view. If we are meeting in public, please place the donation in an unsealed envelope in either a book, or gift bag on the table or in my purse.
Money exchanged is for time and companionship only. Anything else that may occur is a matter of personal choice between two or more consenting adults of legal age, and is not contracted for, nor is it requested to be contracted for or compensated for in a ny manner.
If you're interested in extending the length of our date beyond the prearranged time, please ask me! If I have no prior engagements, I will be thrilled to continue our time together. Please note that regardless of our chemistry, extended dates must be compensated accordingly.