+

That simple yet elusive thing: authenticity.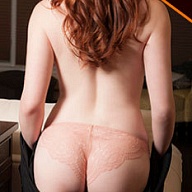 All magic begins with arousal.
The Look
Libby Langdon is a 5'8", all natural, 26 year old caucasian woman with long red hair and green eyes.
She is available for Men, Women, and Couples.
So let me guess. You're smart, successful, undeniably sexy, and on top of it all, you're known far and wide as the ultimate good guy: responsible, generous, protective, mature. If James Bond had a smarter, saner, more successful older brother, he'd be you.
You're extremely well-liked but you're nobody's fool: and there's never a day you're operating without an extremely strategic game plan, executed with diabolical mastery and superhuman attention to detail. Your achievements are, simply put, astonishing, and it's no accident that you're wildly successful at what you do.
You're sharp. You're incisive. You see more than most. Your mind operates like a Italian sports car - powerful, agile, exceptional handling and phenomenal control. You've got a great sense of style and a wicked sense of humor - and you are very, very good at what you do.
Of course, one of the paradoxes of being precisely this guy is that there's an incredible amount of pressure put on you. The pressure you put on yourself. The pressure to hide behind a persona. The necessity, even, to survive in the jungle. So why does survival of the fittest feel like it takes place in the zoo?
At some point you left your natural habitat. At some point you compromised your wildness and power. You decided it wasn't safe or rational to be yourself in the world. You decided other things were more important.
And now?
Let me take a shot in the dark. Within you, something deeper burns.
Secret powers, hidden depths, unspoken desires.
At times, you feel deeply alone. Like a hero, a warrior, a king. Despite your astounding worldly success, your stellar reputation, your superabundance of friends and admirers, the deepest part of you is almost entirely unknown.
Always partly hidden, you have both an intellect and an animalism kept secret from even your innermost circle. If you let people into your head, they'd be shocked by your penetrating insight. The depths of your power. The intensity of your desire. You're a force of nature: who could meet that?
Like a beast in cage, you've learned to tame your instincts and hide your true nature - for now.
Maturity and responsibility come at a cost. That cost is being hidden.
Success and reputation come at a cost. That cost is being caged.
Power and brilliance come at a cost. That cost is being alone.
Some might say you have it all. Deep in your soul, you know better. You've realized that none of it means anything unless you have your freedom.
You are a wild creature. You are not meant to be kept in a zoo.
I know this better than anyone. Except, perhaps you.
Not everyone is ready for this. Not everyone needs to be. I just invite you to consider it.
I don't meet with many of those who reach out to me.
But I leave this here, hoping that one day, you might read it.
You know who you are.
If it's you …
Hello.
Interests
Don't miss Soirée Heat, December 1st in South Beach Miami
or Soirée Caribé, December 9th in San Juan, Puerto Rico