+

The girl next door who you longed to have as your girlfriend- now grown up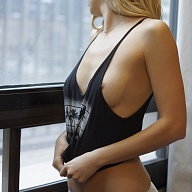 The Look
Laynie James is a 5'11", all natural, 29 year old caucasian woman with shoulder length blonde hair and brown eyes.
"Tall and uber-sexy; I'm visualizing you moving around your apartment naked"
There's no hiding that I'm tall. And my gallery can give you an idea of whether I'm sexy. But seriously, the gallery requires just one of your senses. How much stronger would your feelings be if you could hear the sound of my dress slipping to the floor, smell my perfume, feel my touch…
"A great listener, with a very attractive warmth"
This was probably the most common reaction from my friends, and for which I am most grateful. These days, someone who listens without an agenda is a rare find. And someone who hears and can easily relate with warmth and empathy is even rarer. That's something for which I strive constantly because the intimacy which comes from that closeness is extraordinarily satisfying and rewarding.
"The girl next door who I longed to have as my girlfriend - now grown up"
I grew up in rural America and still maintain a very strong connection with my family. Sure, I moved on and traveled widely from quite a young age, but I hope I've never lost the grounding that family gives you. And while I'm still that girl next door, I've learned a lot about how to make my companion feel very special, and how to achieve that feeling myself.
"Creative with a secretly adventurous side"
I'm not the world's most practical person. Sure, I can fix a blown fuse, but I'd far rather be designing jewelry, or painting. The creative arts excite me, as does travel. I've lived in Australia and Europe, before making NYC my home. So if you want to explore some of the world with a creative spirit, please let me know.
Interests
In my free time I enjoy spending time with good friends eating out at a new restaurant, exploring the many worlds of New York as well as enjoying a quiet night at home working on an art project.
Expectations
To book a date please take a look at my website and my rates.
I strongly recommend you pre-book, I screen thoroughly and sometimes this takes time, last minute requests are often difficult to arrange.