+

A beautiful testament to the magic of female form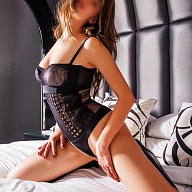 Self care 101. I believe true quality of life is found in a passionate self loving practice. Spending time with me is a self loving ritual.
I don't say that lightly, I mean it. Let me be a part of your well-being. My smile will light up your heart, my playfulness is an all natural stress remedy, my laughter… infectious. When all else is mundane my zest for life is a breath of fresh air. I've always been that way, positive and forward thinking. I have spirit and an old soul.
For me, the glass is always half full. Gratitude means a great deal to me as does sincerity. I don't have a "could have, should have" mentality. I am. I do. I will. Humbly.
Being a companion comes very natural to me. I am a love artist, a professional connector and creator, a partner in crime and curiosity. A soulful companion and an adventure all wrapped up into one… Authentic. Embodied. Unbridled. Woman.
Charming and sassy, in a classically beautiful package. I value integrity, my character is one perfectly flawed masterpiece. I take self improvement seriously and seek to connect with others that passion bringing their best self forward. I prefer to build connections with the people I spend my time with.
My ideal client, is someone I can also call a friend. Speaking of time…I value it dearly; I am a New Yorker afterall, a FT student with a PT job… With that said, I am discerning and selective. I have arrived at a place in my life where I don't want to pretend for the sake of making a quick buck. I am not an entertainer, you won't get a performance act from me, what I offer is uniquely me. The companionship of a one of a kind independent who moves to a rhythm of her own. I am grounded, yet electric. Chic and eclectic. I am a woman on a mission to make love with life.
If you think we'll be a good fit, drop me a line. Let's see what we can create.
Xo
Kate Astor
*Screening for my safety is mandatory.*
Please be a gentleman and have your verifications ready when contacting me.
At the very least I require either 2 references, credentials from a verification service (P411), or employment confirmation
Xoxo
The Look
Kate Astor is a 5'7", slender, 27 year old caucasian woman with brunette hair.
She is available for Male only.
Expectations
*Gift*
Upon arrival please place my gift in an plain, unsealed envelope in clear sight. Please be sure of its accuracy as I will not discuss the envelopes contents in any way.