+

Your Favorite Hedonistic Girlfriend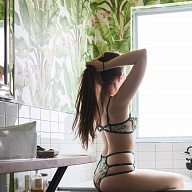 To live would be an awfully big adventure… Come and spend some time adventuring with me.
You've come this far to find someone with the power to captivate each one of your senses. A voice to ensnare your ears and help you float into a place of serenity. Smooth hands to hold in your own as you feel your troubles melt away with the very first brush of a finger. The first whiff of vanilla draws you in for more— simple, sweet, alluring on your nose. Your eyes, the very first thing that drew you in, taking in the brunette curls falling on porcelain skin.
If you're looking to step into this world of delight, then allow me to share a bit of my time with you. My name is Josilee, but my friends call me Josi, and it just so happens that I'm looking to make a handful of new friends this year. Born and raised on the East Coast, I am a college educated woman with her sights set on exploring everything that the world has to offer— that is, just as soon as I can manage to put down whatever book has captured my attention!
The Look
Josilee Adams is a 5'7", slender, 26 year old caucasian woman with long brunette hair and green eyes.
She is available for Male, Female, Couples, and Trans.
Interests
I have a love of the arts, particularly theater. When I take time for myself, you can often find me exploring my local theatrical community or bustling through the enormity that is Manhattan's center to see a new show! I like anything I can make with my hands, whether it's painting, sewing, or baking.
My taste in food and drink vary with my mood. I'm ashamed to admit that I don't have a wide palate developed for fine wines and only truly appreciate moscato, though I've been trying to branch out into other sweet whites. I have an enormous sweet tooth and fear chocolate will be the end of me! On a cozy day in, I can make do with a simple bowl of ramen noodles. On a night out, you'll find me by the water sampling fresh oysters or trying a flight of French fries.
Most importantly, I'm interested in new experiences. I want to see everything this world has to offer. Each person who crosses my path brings me a fresh perspective, a new way to look at something in my life. Take me out for something completely unexpected and I will be overwhelmed with joy! Introduce me to something I've never seen, done, tried, or tasted. Open my eyes to what life has to offer me.
Expectations
All booking must be set in advance, as my schedule does not allow for same-day appointments. Please respect my need for screening and provide all required information in your first email— you'll see how delighted I am in return!
I am available for engagements in both New York and New Jersey, where I make my home. My preferred minimum for all new suitors is 90 minutes, as it is truly the least amount of time in which we may make a proper introduction. Check my website for information about my availability in other East Coast cities, including Philadelphia, Boston, Baltimore, and DC!
1 hour $700
90 mins $1000
2 hours $1200
3 hours $1700
4 hours $2000
6 hours $3000