+

Radical Romance with Conventional Kink

Gender

Trans Non-Binary FTA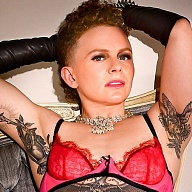 The number one job of the dominant is to continually seduce consent from the bottom
― Joseph Bean
My name is Hextyn, and I am brimming with affection.
Blessed with an innate curiosity about the world around me, I've found unconventional ways to connect with almost anyone.
You're not just anyone, though. You aren't randomly sifting through profiles, you are looking for someone specific. Someone who gets you, who might even intuit your feeling better than you currently can, and someone who can teach you how to be in better touch with yourself.
I'm here for you.
I'm naturally outgoing and adventuresome. I'm also a full-grown adult and have laid shyness by the wayside. You will find me refreshingly openminded and nonjudgemental, and you will be relieved to learn that I am happy to take the lead.
I am grounded and secure. I have been a companion for over a decade. While I am extremely professional, I am not closed off. You can know the real me and I will reveal myself, my story and experiences over time. We can grow together and nurture a mutually beneficial and reciprocal exchange. I will allow you to change me through knowing you because I expect the same of you. Authenticity thrives in an environment of trust.
While I certainly don't mind being a once in a lifetime experience that fosters memories and inspires you forevermore, I hope that we can continue to build something together. Do not underestimate me - I have much to teach you.
I am available for short meetings when you are short on time, but I encourage you to prioritize yourself and your pleasure by booking extended engagements with me. I am a lifestyle companion. Although discretion is paramount and it is important to keep this part of your life private, compartmentalized and secure, I encourage you to give me the reigns of your private world. Let's level up together.
I like to set people free, and if that's too presumptuous, then at least I can strive to alleviate the feelings of ambivalence that accumulates from daily tedium. Our time together will be a journey from the mundane into the divine and rekindle your passion for sophisticated joys. Even if we're only together for this moment, I'm here for you. Reach out when you are ready.
The Look
Hextyn is a 5'1", athletic caucasian in their early 40's with short auburn hair and blue eyes.
They are available for Male, Female, Couples, and Trans.
Presentation
Androgynous
Interests
I am a reformed corporate diplomat and as such, I enjoy taking my time to enjoy the simple things in life.
My biggest passion is fitness! I am an avid weight-lifter and cyclist. I have been practicing yoga for over 20 years. I study pole dancing and some modern choreography. I would love to go out partner dancing or clubbing together.
I am also into nutrition as a part of fitness. I prepare a lot of my meals in my own kitchen and I host elaborate dinner parties for almost any occasion. Once we get to know each other I would love the opportunity to prepare some of your favorite foods or to show you some of the dishes my grandmother taught me. I am unfortunately gluten intolerant, which means no pizza or beer, but I do love sparkling wines, especially champagne.
I craft a bit, and these days that looks like hand-sewing and restructuring vintage pieces. I also like to paint. I like to collect art, too. Ask me what I'm currently coveting!
I have been known to travel. I get around quite a bit, and you might find me in Atlanta, Baltimore, Chicago, DC, Nashville, Philadelphia, Los Angeles or San Francisco. Send me an email if you want to be notified of my next visit. I have traveled to 17 counties, lived for three years as an expatriate in Southeast Asia, studied in Latin America and Europe and worked in the Middle East. I love beaches as much as I love mountains, and I love the bustle and hum of the city almost as much as I love being able to see the stars from the countryside. It would provide me a lot of joy to be able to plan a vacation with you.
I have a master's degree in a scientific field and am kicking around the idea of going back to school in the same track. I would start with pre-requisites before committing to a specific degree. The biggest obstacle to this is regulating my schedule - please see my comments about travel ;)
My favorite authors are Kurt Vonnegut, Octavia Butler, Earnest Hemingway, Amy Tan and Jeanette Winterson. I love moody fiction about dystopian futures. I enjoy memorizing love poems, too.
Expectations
I am based in NYC and available for dates and meet and greets where I come to you or you come to me. I prefer if you can host but I understand if that is not always possible. I host in a myriad of upscale hotels in Manhattan and Brooklyn. I also have access to luxurious and spacious private apartments in Midtown East and Prospect Heights once we get to know each other better.
I am available for outcall visits of at least three hours to Philadelphia and Baltimore for no extra fee. I am available to visit Washington DC for a minimum of four hours for no extra fee.
I am also available to travel with you or to you, and I hold a valid US passport. For locations outside of NYC, Philly, Bmore and DC, I require at least a six hour engagement plus the full cost of travel.
If you would like to spend time with me, I appreciate as much notice as possible. Sometimes my calendar is booked six weeks in advance. But I am also available for same-day or next-day meetings if and when the stars align. In a nutshell, please reach out to me as soon as you know you would like to meet.
SCREENING: I screen all suitors for my discretion and safety. My screening procedures are non-invasive industry standards. I have no need to see individuals who cannot or refuse to be screened. Please be prepared for screening when you reach out to me.
RATES for INCALL & OUTCALL: 90 mins - 950, 2 hours - 1200, 3 hours - 1700, 4 hours - 2200, 6 hours - 3000, 12 hours - 4000, Overnight - 5000, 24 hours - 6000, Weekend - 10000
DEPOSITS: In order to confirm our booking and reserve our time together, I often ask for a small deposit. For extended or travel bookings made with enough notice, I can accept cash securely overnighted through FedEx, and for shorter term and short-notice engagements, I might request specific gift cards.
You are always encouraged to visit my website and social media to learn more about me and to book through email.