+

Alluring into a Trance Of Manifest Energy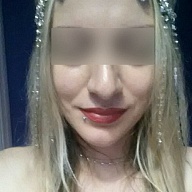 The Look
Goddess Julie is a 5'7", slender, all natural, 25 year old caucasian woman with blonde hair and green eyes.
Embrace ME through the darkness. From darkness come light. Let yourself experience release through ecstatic energy and creativity. Balance karma, balance pleasure, balance charisma. Mind and touch together to create an experience which is transforming. Let yourself go and turn over the spirit so it can be challenged and grow…growth through sensuality and pureness of spirit. Experience Beauty."
In ecstacy remains iridescent zone in mind and touch, feelings and aroma. The earths experiences shared telepathicly, united in the spectrum. Breeding ignition prevails in solitute, recognition of ones self. Yeild in faith of the higher self channeling the crown. And with this journey may your spirit soar. Reaching into stability and comfort, the candles vibrantly flicker, eyes gloss, crystal prisms glare, stars collide. Hands cling while melodies cycle. The silk sheets surround you in Opalescent, quartz and long pearls with flight in dipsomania tranced so tranced…
White and dark Tantra- meditation- body work, massage, healing. In depth consultations offered to those who have gone down this path. Privacy and intimacy offered for the most complete experience.
My session range from 1 hour to multiple hours. Full multpile hours of companionship encounters for those seeking immersion into a full and rewarding experience. Perfect for those in NYC for a day or visiting/traveling- accommodations included.
Electrics available upon request- please inquire and I will suggest equipment to suit your needs.
NURU and Bondassage Offered. Wonderful total relaxation for novices and those looking to learn more about the art of sensuality.
Experiece: Light Tantra/Meditation
Dark Tantra/bdsm/fetish Fantasy - Send a description of the type of interests you will like to explore, if your unsure it will be linked into Wellness advice/ Consultation in regards to your sole purpose of wanting to improve yourself or explore other areas.
Sensory gloves
Cupping
Bodyrub
Nuru
Bondassage
Wellness
Crystals
Cleansing
Worship
Visualization
Healing Crystal Magick -
Electricals: Tens unit for muscle tension
My contact- Msjulie2016@yahoo.com 4 hour - 24 hour notice for appointment. Beginners are welcomed.
I dont answer gray area/ illgeal terms of the law, no abbreviations or slangs. So please have CONSIDERATION and dont ask… You are to send me your description. You may mention your requests in a sentence or paragraph format or a list.