+

New! Young Quaintrelle with a Vivacious Spirit up for Adventure!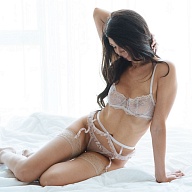 There's always a wild side to an innocent face.
Quaintrelle: A woman who emphasizes a life of passion expressed through personal style, leisurely pastimes, charm, and cultivation of life's pleasures.
Hi, I'm Fiona. If you've found me it's likely we were destined to meet. While my images may be striking I love the opportunity to introduce myself a bit further. I am a highly educated young woman possessing a BA and Masters degree from top universities, one of them Ivy League. I speak two languages and have a tendency to pick up some common phrases from a handful of other languages. I absolutely love to read, and consider myself to be someone who "knows a little about a lot" making for easy and comfortable conversational moments. I enjoy living between NYC and London. I love to visit museums, take in a symphony or ballet performance, or check out an independent film. Some have called me an "old soul" despite my 27 years, and this may in part be true as I feel disconnected from the activities and concerns of most people among my generation. I most often enjoy curling up with a glass of wine and reading the NY Times or simply luxuriating in a delicious bubble bath and taking in a quiet and relaxed moment that enables my wander to far off and wondrous places. I am well traveled, and have spent time living in Asia and Europe, and feel that I can quickly adapt to any cultural environment. I take a lot of pride in my appearance, working out several times a week, embracing a healthy diet, and indulging in feminine activities like manicures, blow dries, and spa treatments to keep me at my best. I am also naturally, quite adventurous…
The Look
Fiona Marchand is a 5'8", slender, 27 year old caucasian woman with long brunette hair and hazel eyes.
Interests
I am someone who deeply enjoys meeting new people and learning of new perspectives and experiences. I love to laugh and have been known to have a charismatic and clever sense of humor. I can talk about the many varied experiences we both share, and then easily get lost in sweet intimate moments that bring our bond closer together. While I am demure and graceful in public, making for the perfect dinner date, I truly enjoy exploring the physical connections with another like-minded individual when in a private environment. I am a physical person, and when chemistry has been cultivated and is on point, I enjoy becoming lost in exploratory moments. While my dark hair falls down by my toned body and my bewitching hazel eyes stare into yours, I endeavor to take our time to the next level and create a unique experience that is our own exclusive story.
Expectations
CONSIDERATIONS:
ONE HOUR - 800 USD/EUR
600 - GBP
EACH ADDITIONAL HOUR - 400 USD/EUR
200 - GBP
Because I am a selective and low volume companion, I typically have flexibility in order to account for the possibility of extended time during our date if we're having too good of a time.
- Screening is necessary and important, for the both of us. After screening info is received and verified, it is erased and history refreshed. I have no interest in using personal information in any manner except to ensure that I am meeting with someone with whom I can feel safe and trust. This way, we can concentrate on our chemistry and making the most of our time together. You should be relieved and reassured to be meeting with someone who safeguards her safety, health, and well-being, and maintains these strict standards with all dates in order to extend the same to you. Please do not reach out unless you can provide my required screening information. I simply don't respond to inquiries that don't include it.
- I want you to have fun and be free to be you while we're together, but please do not take drugs or become excessively intoxicated during our time together.
- Lastly, I do not permit reviews. I make it a point to be off sites that cater to this part of the companionship experience and types of clients. So, let's stick to the old adage of "don't kiss and tell". I will say though, that if you're inclined, I absolutely adore a Thank You note following our date! It's a bit of the old fashioned girl in me, and hearing that you had a wonderful time and valued our unique connection makes me so happy.