+

All American Blonde Beauty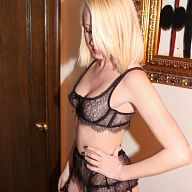 Insanity: doing the same thing over and over again and expecting different results.
—Albert Einstein
The Look
Elspeth Sinclair is a 5'7", slender, all natural, 26 year old caucasian woman with shoulder length blonde hair and hazel eyes.
Greetings, Gentlemen (and Ladies, too). I'm Elspeth Sinclair and I'm thrilled you have decided to learn a little more about me.
You'll find me to be very thoughtful, considerate and even romantic in my outlook, and so I ask you to be equally thoughtful and PLEASE read through my entire text so we can be sure we're on common ground as we begin.
I have lived in NYC for eight years, I know the city well, and enjoy it all. I'm as happy to be the guide to out-of-town visitors as I am to hang with my fellow New Yorkers. I lfrequently visit NJ, CT, Washington DC, Boston, LA, and Seattle WA. Let me know if you are interested in me coming to you and we will discuss.
Granted, it's always awkward to talk about oneself, but physically well, I'm scrumptious, with long slender legs, a plump round bottom, and hips to die for. As you can see, I have porcelain skin, blonde hair and (there is just no other way to say it) gigantic hazel eyes.
While I am not able to show my face in my photos privacy reasons, the men and women who've been my romantic partners seem to feel that my features are quite a plus. I have some small and delicate tattoos, which have been airbrushed out of these photos for obvious privacy reasons —but I'm sure you'll like them as much as I do once you see them.
Interests
I grew up in the Southwest, where I acquired a love of the outdoors, an appreciation for both folk and fine art traditions, and the ability to eat HOT chilies with aplomb —but I also like less spicy fare as well. Weekends usually find me at craft fairs (I'm an independent craftswoman in my spare time), or in a park up the Hudson River, or just enjoying lunch and a drink with my NYC friends.
Expectations
Please leave the consideration in an unsealed envelope in the restroom at the beginning of our date. If we are meeting in public please place the consideration in a gift bag or book for me to receive. Please do not hand it directly to me or count it in front of me. Discretion is important for both us.
Rates are non-negotiable so please do not try to haggle or request uncompensated time with me. It just embarrasses us both.
I spend a lot of time and effort preparing for our experience together so please return the favor by showering and having fresh breath.
If you have any clothing requests whatsoever I am more than happy to accommodate. I have an extensive wardrobe of clothing and lingerie.
I understand cancellations happen and are unpredictable in many cases, but please attempt to give me at least 24 to 72 hours notice if possible. Last minute cancellations wouldn't make you happy and they certainly don't make me happy. Please be considerate and let me know as soon as you can.
If you'd like to extend our time together past what we had agreed upon please let me know. If my schedule is free we can continue on, but please remember regardless of our connection compensation is required for additional time.
For overnights or longer arrangements I do require at least six hours of sleep (trust me you don't want me around with less) and for extended travel at least four hours alone per day.
I reserve the right to terminate the date at anytime without refund if I feel I am not being respected or my safety is being compromised.
Contact Info
Contact
Information
External Links
Add Elspeth Sinclair to...