+

Enticing Glances, Infectious Laughter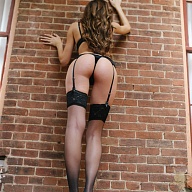 "Reality doesn't impress me. I only believe in intoxication, in ecstasy, and when ordinary life shackles me, I escape, one way or another. No more walls." -Anais Nin
The Look
Celine Baudin is a 5'7", slender, all natural, 24 year old caucasian woman with long brunette hair and brown eyes.
She is available for Men only.
I love the feeling of breath on skin. Enticing glances and infectious laughter excite me. Sometimes hands and limbs have a way of just entwining all on their own. These are the moments that I live for. I left an unfulfilling life behind to pursue one that allowed me to unearth what it means to fully be alive, and I haven't looked back.
I am a seeker of passion and beauty. Since you're here, we probably have that in common. I studied Art History and fell in love with what I saw. We have an innate, hedonistic desire to feel connected. If bodies are art forms, then intimacy is a masterpiece. We ache for the feeling of being touched, in so many ways. True intimacy is in vulnerability. Those opportunities to untangle our knots are the most special moments we can find.
I believe life was meant to be devoured enthusiastically. Tell me, what are you looking for?
Interests
Born and raised in the Midwest, I have a knack for down-to-earth conversations, especially about art and travel. Although I love nights out, my guilty pleasure is living in the library, browsing for a stack of books to become my next to-reads on my already lengthy list.
I enjoy learning about others as much as I enjoy meeting them. After all, everyone has a story to tell. What's yours?
Expectations
Please see my website for consideration and expectations.