+

British Burlesque Beauty! Blue eyes, magic sparks, soul and sweetness!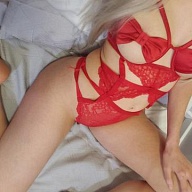 "You've got a secret smile, and you use it only for me". Let my sexy English accent, and cute dimples take your head for a spin and your heart for a whirl. Show me your world, and I'll show you mine.
American born, and raised and educated in England. I am an English Rose with two passports, and an appetite for travel. I'm a classically trained theatre actress, and have acted and modeled professionally for the past 10 years professionally all over the world. I am now a singer/songwriter in the making, and music, dance and The Arts are my passion. Science is my second love, and entertaining is my innate born gift. I have for the past few years, since I stopped modelling been learning how to pole dance, and have worked recently as a lap dancer at the famous Stringfellows in Covent Garden, London in the UK and also at Sapphire 39 in Manhattan, New York. I am almost 27 years old, and I have super baby soft skin, and twinkling ocean blue eyes.
I'm 5'8" tall without heels, and 6ft in heels! As a runway model this used to be a bonus, but these days I like to go barefoot, or wear flat shoes, unless you request otherwise. Looks-wise, Margot Robbie Is my vibe. I have a delicate pretty face, sexy red lips, and cute dimples when I smile. I am curvy in all the right places, yet slim and toned too, and I enjoy daily workouts at the gym, doing yoga, dance, and running through the countryside, or on the beach as and where I can!
I've a teeny-tiny waist with gorgeous big breasts, large hips and a plump round ass. I've been told my derrière is something to be admired!
My speaking voice is very sexy. I have a posh British acccent, was educated in England at one of the world's top universities where I studied Literature and Theatre. My family are all in academia in Science, Technology and The Arts. Due to their encouragement and influence, I am well-spoken, eloquent and expressive.
Spontaneous, fiercely intelligent, feisty, witty and full of passion and energy I love meeting intelligent, professional, educated, kind men who like a challenge!
My incall is four or five star luxury accommodation. I stay in the most gorgoues four and five star hotels in London, Los Angeles, Las Vegas and New York. I always have a fabulous, glamorous, clean and luxurious space for us to relax in. There will be a nice bath/shower and clean towels available for us to use before and/or after our time together.
My favourite thing is when I truly connect with someone, chatting and sharing soul to soul. With the right man, or woman, and the right chemistry, I love sharing my innermost thoughts and feelings, discussing things that bring joy and passion to life like music, comedy, creativity, spirituality, philosophy and psychology. Humans and humanity fascinate me no end, and deep topics are a huge plus for me please feel free to spark up an intellectual conversation. On the other hand, I think it's wonderful if we can 'click' and make each another laugh the ability to share a true belly laugh with a man is a hugely attractive feature for me! I am a huge fan of comedy, particularly the British sense of humour, so if we share that in common that pretty much guarantees there won't be a dull moment!
I'm a perfect companion for any type of party, event or gig I can hold a great conversation with practically anyone so feel free to have me on your arm at functions and exhibitions where I can look fabulously sexy for you and impress a wide variety of personality types.
My first love is travel I adore the excitement of the unknown, getting on a train or plane and exploring and adventuring in exotic landscapes. I have gypsy ancestors and hate to be tied down, so I have been finding lockdown super difficult I just want to be free!
But until this is all over, I would love to indulge in some escapism by sharing our wildest stories of adventures around the globe!
I am essentially a soulful yet hedonistic girl with plenty of passion for life, adventure, and trying new things. I can guarantee you won't ever feel bored during our time together I can't wait to learn how to connect with you, entice you, please you, and make you feel on top of the world by the time we say goodbye.
The Look
Scarlett Scott is a 5'8", curvy, 26 year old caucasian woman with long blonde hair and blue eyes.
She is available for Male, Female, Couples, and Trans.
Interests
I love, love, love the arts, especially music, songwriting, poetry, dance and theatre! I enjoy trips to art galleries, concerts, dance shows, and live performances of all kinds.
I am really sporty, and a huge fan of hiking, yoga, swimming, dancing and running. I love to keep fit and my recent obsession is running at sunset, with great music in my ears and beautiful sunlight setting in my eyes from the horizon.
I adore animals of all kinds, and find nothing sexier in a man, than being kind to animals. If you have pets, or are an advocate of animal rescue in any way please tell me! I'd love to connect on that!
I am always excited to travel and am a frequent globe trotter! I have jetted around the world for love and for work, as both a VIP Companion, but also as a professional model and actress. I have toured the USA as a top model for Wella, Tigi, and Paul Mitchell, and I have been a luxury companion flying on private jets from London to St Petersburg, New York to Rome, and sailing on celebrity boats in the Caribbean. I have ridden the beaches of the Caribbean on horseback at sunset and been invited to join the elite in penthouse vacations. Equally have I traveled frugally with best friends, sharing special moments snorkelling through Catalina Island waters, backpacking through Europe, and camping in mosqito ridden tents. My favorite moments of travel are those that are unforgettable, and they are a mix of diveristy, uneasy to pin down whether luxury and comfort underpin the magic, or whether precious company and sparks of madness from connection fuel special memories. From Art Basel in Miami, to Johnny Depp's yacht in the Caribbean, to a romantic private concert for two in with full choir in St Issac's Cathedral St Petersberg, followed by a special private tour for two of the closed down State Hermitage Museum, to something as simple as sharing a moment of joy painting with friends at a festival, or cuddling with a loved one under a blanket while no one else is around…those are the memories I still long to create. Will you create them with me?
Please tell me what lights you up inside? Maybe we can find a spark of imagination and connection outside the obvious to enjoy while we share our time together. Even if it's just a thoughtful, and poignant chat in a cosy chair tucked away on a beautiful rooftop, or in the comfort of our hotel room. I am all ears, and always eager to learn and listen. I would be thrilled to hear what excites and delights you!
Expectations
Please contact my assistant D.D. via my Gmail address to arrange a date with me. She will screen you, and help get you booked into my calendar.
I will be staying in luxury four star accommodation in Beverly
Hills while I am visiting in October. I have a nice big upscale suite with a living room, sofa, small fireplace and seperate sleeping area and I would love for you to come and enjoy with me!
My outcall rates are $100 more per hour which cover my travel time and Uber expenses to get to and from you.
During our time together please leave my donation in an envelope in plain sight on a counter or tabletop as you enter. After you have placed the envelope please excuse yourself to the restroom to wash your hands or freshen up. A shower is encouraged but not necessary if you have showered recently before arrival. I will happily commence our date once the envelope has been placed, and you have excused yourself to wash your hands.
I have a beautiful website with extrended picture galleries, my gift wish list should you wish to purchase something special for me for our time together or as a nice surprise to break the ice! I also have a Twitter account, an Instagram, and an OnlyFans Account, all of which can be found linked on my website. I encourage you to follow me, or peruse those to get to know me a little better before our time together!
Looking forward to hearing from you and finding some special moments together!
Scarlett
xoxo