+

I'm Super Healthy!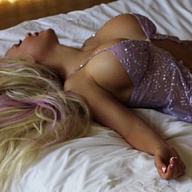 "When you actually listen, sometimes you can learn in minutes what it took another to learn in decades, people are books." — Paris
And I Love Love!
I am Swedish Hungarian and passionate about life.
I am a lonely person's dream! Have you spent too much time traveling, working and aquiring, and now in this world event find yourself wishing that you had a smart, funny, communicative best friend?
I am attentive, highly energetic and super positive, with a natural curiosity for regenerative health research and medical health gadgets. My friends refer to my condo as the franken lab, I have so many!
I moved to Las Vegas from San Francisco over 10 years ago. In San Francisco I danced at a burlesque club called Boys Toys and loved featuring there with my many elaborate costumes and stage routines. After 911, people worried about crossing the bridges to come into the City and the business there as we knew it came to a screeching halt. My girlfriends all announced that they were leaving and that they would see me in Vegas. I didn't know what Vegas was all about back then, but since everyone seemed to be packing their cars in a hurry to get there, I decided that would be a good idea to do as well. I had trained in ballet, acting and most styles of dance and was fortunate to land a job performing in a show at a casino on the Strip after arriving in Las Vegas.
Being raised in a small town with pine trees and lakes near Lake Tahoe, I found Las Vegas to be a comfortable place to relocate to because of its high desert, mountains and perfect weather. Being a professional dancer, the Las Vegas Strip offered many opportunities to perform in shows, act in commercials and do print work. I also featured as a dancer in many of the strip clubs.
Moving to Vegas from California, I wasn't fond of cigarette smoke, and quickly became a fan of skipping work to hang out with new friends and enjoy the lavish lifestyle that Las Vegas has to offer. From the massage tables of some of the most beautiful spas, to fine dining in private villas, I have experienced luxury, laughs, and a great amount of love and good connections.
I am an independent dining guide and model, and I do not work for an agency.
The Look
Paris is a 5'3", slender caucasian woman in her late 40's with long blonde hair and green eyes.
She is available for Male, and Couples.
Presentation
Feminine
Interests
If you are afraid of germs you will love me!
I have been in regenerative medicine and biologics since college. I practice a regime that would make any germaphobe envious. In my private collection I have a formostar, theraphi bed, acuscope, myopulse, lymph glide, eng3, bella derma, erchonia 635FX, dynatronics lasers and spooky2 rife.
People are books.
I am genuinly interested in people, their perspectives, and how it is that they have become them.
People are truly the most interesting thing placed on this planet.
When you actually listen, sometimes you can learn in minutes what it took another to learn in decades.
Expectations
I have appreciate you rates that encourage longer term friendships and give you a financial break in these times!
I prefer to have longer engagements and create real connections.
400 for the first hour
100 an hour thereafter
Short notice is always welcomed and I will do my best to accomodate…
Customization for every booking.
Email me for availability and preferences or see my website.
I look forward to hearing from you, as I pick up my phone.
And until then, may your every bite of life be sumptuous!
From Paris with Love
Preferred 411 member # p191647