+

A Devilishly Sassy & Exotic American Beauty with Curves that Tell Time.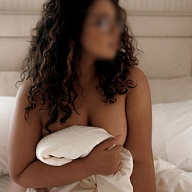 I fell in love with her courage, her sincerity, and her flaming self respect. - F. Scott Fitzgerald
Recall the film American Beauty? There was a line that Lester had that continues to strike a chord with me today: "Remember those posters, 'Today is the first day of the rest of your life'? Well, that's true every day but one - the day you die." A bit macabre, although, true.
Life is a funny thing. You spend your childhood abhorring nap time & looking up to the skies imploringly, wishing to grow up. But then something happens: you grow up. Lo' & behold, you have become a form of Lester; constrained by society & your work to the point where you're wanting to reclaim yourself, your identity, your sensuality. You aren't unhappy, but you crave to be cared for in a way that makes the construct of time stop, even just for a moment; to see all the beauty of the world. And that's why you've found me: your guide out of the dark banality of life & onto the journey to reclaiming yourself.
So go ahead & wander around. But don't let the sands of time pile too high, for I am ephemeral; always going where the wind takes me. Flattered & humbled you've found me. I look forward to meeting you in the flesh.
Wickedly Yours,
-LJ, Xx
N.B. If you happen to be Kevin Spacey, hit me up for drinks. We most definitely need to talk about your life decisions.
SCREENING & SCHEDULING
-All bookings can be made by visiting LJ's website or by emailing LJ's assistant, Cynthia at cynthia@thelondonjames.com
AVAILABILITY
-MINNEAPOLIS: Dec. 6th // 12th - 23rd
-WASHINGTON, D.C.: Dec. 7th - 12th (morning)
The Look
London James is a 5'5", curvy, all natural, 26 year old caucasian / black / middle eastern / native american woman with medium length black hair and hazel eyes.
She is available for Men, Women, and Couples.
Interests
Fitness is particularly important to me not only for my improving figure but for my overall health.
Traveling internationally makes me quite happy and all the adventures that come along with it.
Michelin Stars and dive bars are great. Shopping is something I can do for hours… go figure, driving fast cars, and playing with my dog.
Expectations
When "Available Now" is turned on for your city, it means that I am available to correspond with you regarding a future appointment.
Please see the "Manners" section of my website for ALL the information regarding etiquette and expectations of the following: screening, cachet, touring/calendar, deposits, fly me to you, and bookings.
All bookings can be made via LJ's website or by emailing LJ's assistant, Cynthia, at cynthia@thelondonjames.com. If you want to be made aware of when LJ is traveling, sign up for her mailing list via her website (in the footer). You'll be the first to know.