+

Whatever you were expecting, nothing could have prepared you for her.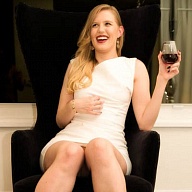 Perhaps there is a soul hidden in everything, and it can always speak, without even making a sound.
An extraordinary woman, tall and confident, eager to discuss Russian theatre, ancient history, political science, or modern art. A beautiful woman: remarkable hazel eyes, high cheekbones, warm undertones in her skin. You take her arm, and she smiles brilliantly. In that instant, it feels as though the two of you are already old friends. An unforgettable woman.
Over dinner, you're charmed by her wit, the mischievous twist of her full lips, by the scope and depth of her unpretentious intellect. By a bold, sonorous voice, crisp consonants and round vowels the product of musical training. Her breezy laughter rings out, and you find yourself startled by her insight, her uncommon empathy, by her magnetizing, honest gaze. This is a woman who sees you, who knows you. Who can understand you without judgement or prepossession. Just as you, unlike many, are able to understand her.
When she's gone, she leaves behind a lingering memory: the taste of champagne, the softness of her hands. Her unique scent: roses, peppercorn, and something entirely her own.
Some women were born to be exceptional, to live life fearlessly, to fly against the expectations of a mundane existence.
Hello. My name is Eloise, and I am one such woman. Reach out; take my hand. And join me on an unforgettable adventure.
The Look
Eloise Earhart is a 5'9", slender, all natural, 25 year old caucasian woman with long blonde hair and hazel eyes.
She is available for Men, Women, and Couples.
Interests
As I prioritize authentic connections, inquiries for longer appointments will be given precedence. For this reason, I recommend we begin our relationship, when possible, with a clockless evening out.
…
WOO ME
Although you are never expected to arrive with anything other than the appropriate consideration and a kind heart, I do enjoy being pleasantly surprised. Some suggestions: rose-scented candles, a gathering of peonies, or a print of art for my home.
…
THRILL ME
If you truly want to make my day, proof of donation to one of the following non-profit organizations would mean the world to me. I can buy my own dumb stuff.
Big Cat Rescue | ASPCA | ACLU | Planned Parenthood
Expectations
I am currently available for outcall appointments in Boston and the surrounding area. A minimum of 24 hours notice when booking is appreciated. For same-day appointments, please allow at least two hours.
Consideration for my time is as follows:
500 - 1 hr
750 - 1.5 hr
1000 - 2 hr
2000 - A Night Out
3500 - … And Breakfast
4500 - Day Trip
8000 - Weekend Escape
You'll note that the timestamps disappear after two hours— this is because I prioritize authentic connections, and want our time together to develop without artificial constraints. In turn, I trust you to allow the occasion to unfold and conclude organically.
HOW TO BOOK
Screening is required. Please email or fill out the booking form on my website to set up a meeting. Rest assured that my discretion is paramount. My reputation depends on my integrity, and I'm deeply grateful that you've decided to place your trust in me.